---
This was really a busy week! On Sunday, August 28th, Tom, Cindy, and I hiked up the East Willow Creek drainage. Between Phoenix Park and the falls, we saw the mama moose and offspring in the picture below.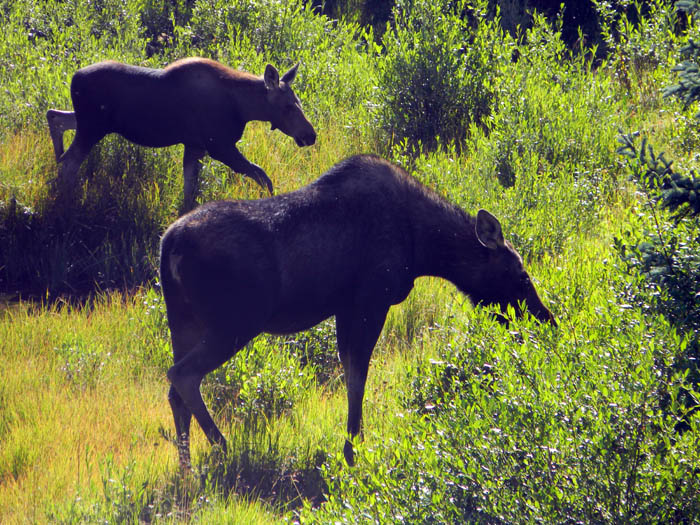 Then we hiked further up the drainage following a disused trail not on any of our maps, to a beautiful open meadow where we had lunch, and hoped to see some elk. The elk failed to appear, but we got in a hike of 9.6 miles and about 5,000 feet of total elevation gain and loss. Good exercise...
On Wednesday, August 31, Tristan, Alex, Dave, Penny, Tom, Cindy, and I wandered up the East Willow Creek drainage. The group below is admiring the view of Phoenix Falls, show in the picture below that.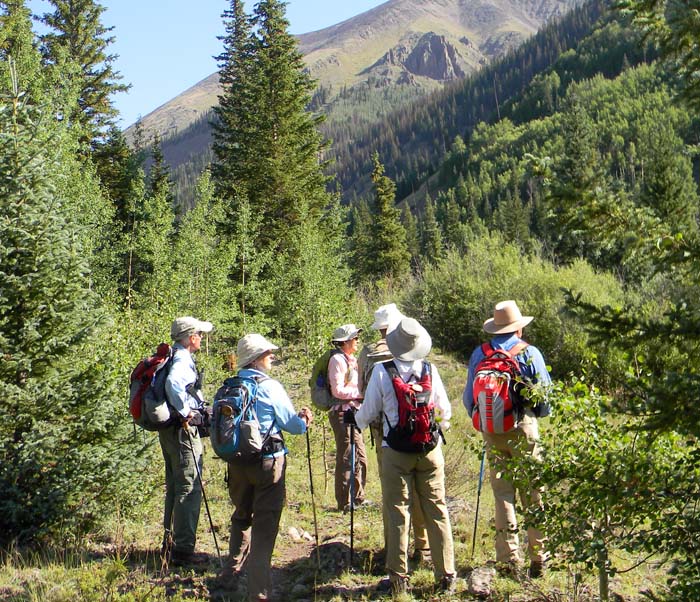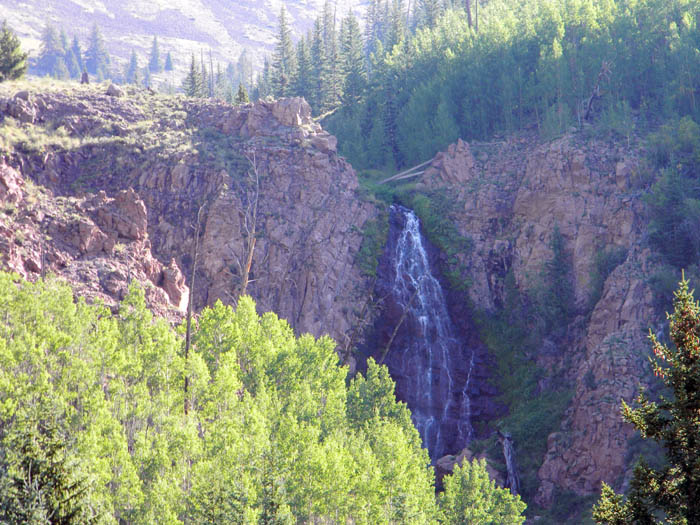 Wednesday night, my good friends Jacob and Lisa Bynum, of Rifles Only in Texas, showed up for a visit to Colorado to get out of the heat, and ensure that I was staying out of trouble. We have been so busy hiking that I have had neither the time nor energy to get in trouble, but I appreciate their concern...
Thursday, Jacob, Lisa, and I took their Jeep up to Lake City, and then up to the top of Cinnamon Pass, 12,640 feet high. On the way up, we saw some of the aspens which are starting to turn and signalling that fall is approaching.
At the top of the pass, we paused for the obligatory picture, below. I wonder where Jacob's right hand is...
Observing gathering clouds off to the west, as well as our stomachs' grumbling, we headed back toward Lake City for lunch.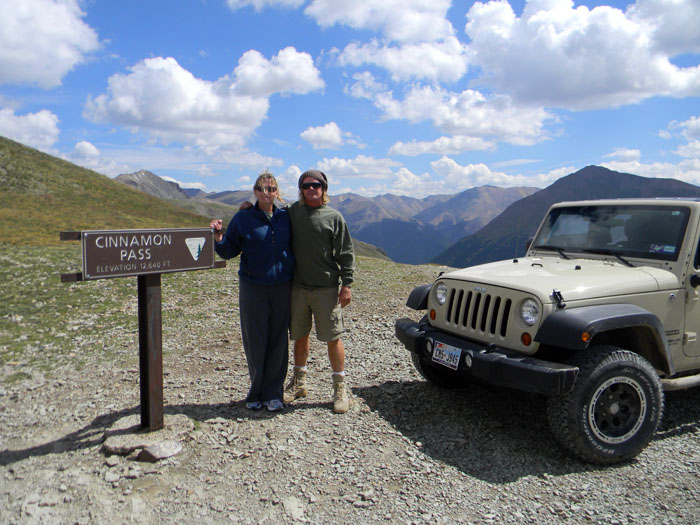 On the way down, we paused on the trail to allow some other traffic to ascend - vehicles going up by convention have the right of way - and got this nice shot of American Basin.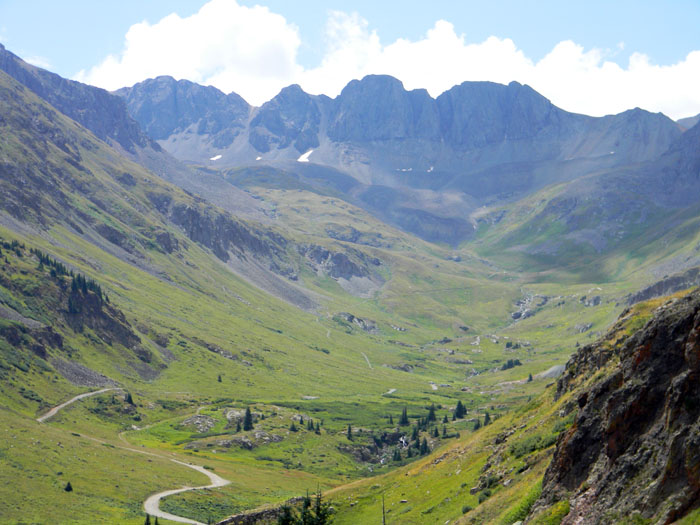 After lunch at Poker Alice's in Lake City, we headed back to Creede for naps.
Tristan and Alex joined Jacob, Lisa, and I for dinner at the Creede Hotel. It gave me great joy to have together four of my best friends - friends whom I really consider to be family - and we lingered long over dinner this splendid evening.
On Friday morning, the First Annual (they hope) Creede Balloon Festival made its inaugural flights. The beautiful mountains surrounding Creede provided a wonderful backdrop for the balloons.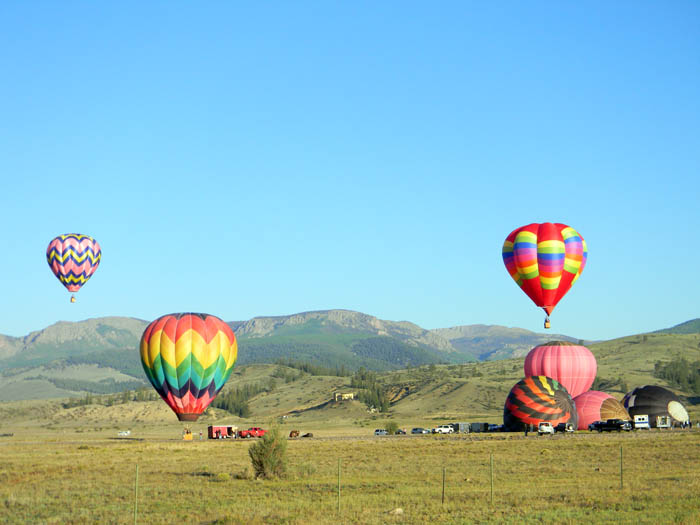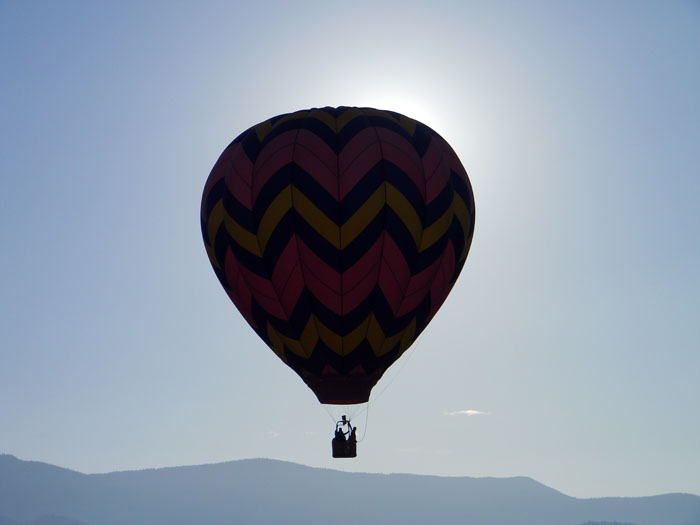 It's been a great week, filled with hiking, friendship, and splendid scenery.
If you've been reading this page all summer long, it ought by now to be obvious that (a) I love this place, and (b) I am very grateful for all of my friends and family.
If there are people in your lives which you are pleased to have there, consider this a hint to tell them that - while you still can.

---
lindy@arcanamavens.com