Tristan MacDonald invited me to accompany him and his grandchildren Brittany and Zach Fraser on a hike on the Continental Divide Trail, starting on July 22nd, for four days. I had done some hiking on that trail, though not since this hike in 2001, so I gratefully accepted his kind invitation. I did so with a little concern, as I've done some recent hiking with Tristan sufficient to convince me that despite two hip replacements and a knee replacement, he might well be capable of outwalking a horse. In the event, that turned out not to be a problem - he kindly stopped for a break when he heard me wheezing behind him.
Day One, July 22, 2011
Tristan's lovely wife Alex drove us to the Lobo Overlook Point above and to the west of Wolf Creek Pass at about 11,640 feet, and we began the hike going north on the Continental Divide Trail.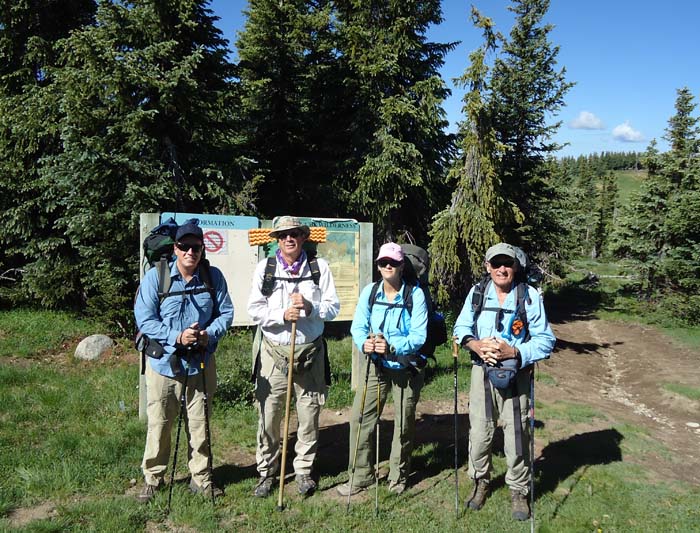 Left to right: Zach Fraser, Lindy Sisk, Brittany Fraser, and Tristan MacDonald
Photo Courtesy Alex MacDonald
The plan for that day involved hiking about 9 miles to Archuleta Lake to camp overnight. The trail profile looks like this:

If you look carefully at that diagram above, you'll note that the tiny figures on the right indicate that the trail rises 4,318 feet and descends 4,701 feet in that distance of slightly over 9 miles, for a total elevation change of 9,019 feet and an average grade of 19 percent.
If you haven't walked a trail like that, try walking on a treadmill set at approximately that grade, if you can find one that can be set that steeply. It might impress you as much as the trail impressed me - but I just shortened my step and kept chugging along. Fortunately, Brittany and Zach, who have been hiking with Tristan and Alex since they were about the age of six, had recently arrived from sea level and were not acclimated to the thin air, so they were not too impatient with the old guys.
After a bit, we got to the marker of the Weminuche Wilderness, and paused for a picture. You'll note in the pictures of this hike many dead trees, most of which have been killed by beetles. The percentage of trees killed in a specific place varies, as the tree species vary, and not all are attacked to the same degree. The dead trees do cause a problem for hikers by falling across the trail. Since chainsaws are not allowed in the wilderness, they can only be cut by workers with manual saws, which we saw much of on the descent through the switchbacks into the Ivy Creek drainage. Elsewhere, they are walked over, or around. The dead trees can also restrict the choice of campsites - it wouldn't be smart to spot a camp among dead trees in an area with little protection from the wind.
In the picture from left to right are Brittany and Zach, who are in their middle-20's, and Tristan on the right, who is 75 years young. Tristan served in his youth in the most elite British military organization there is, thought by many to be the most elite in the world. It shows. Your not-very-humble correspondent turned 65 years old the week before the hike.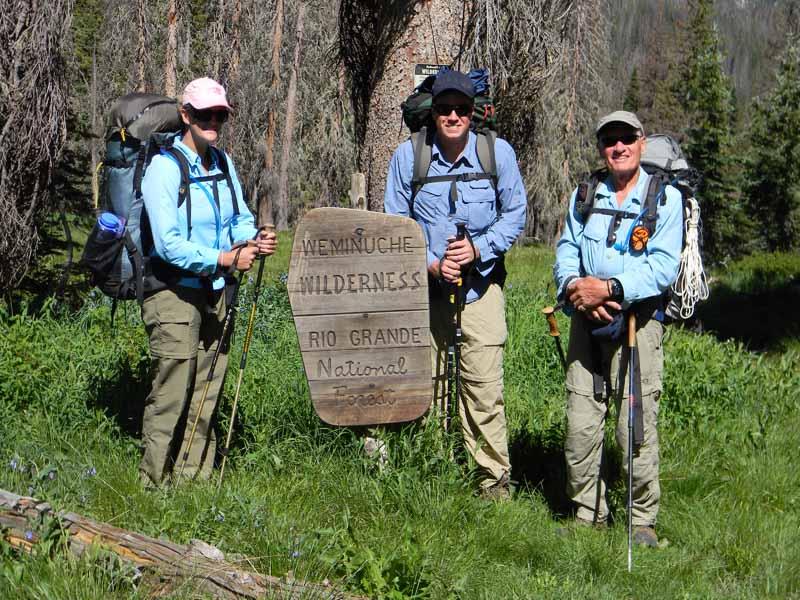 Around noon, we got to Rock Lake - there is more than one lake by that name in this wilderness - and paused for lunch. Tristan's opinion is that the flowers on our path were about at their peak, and they were everywhere. Had I paused to take a picture of one of each species, we'd still be on the trail. The lunch break was short - water and trail snacks like energy bars and trail mix.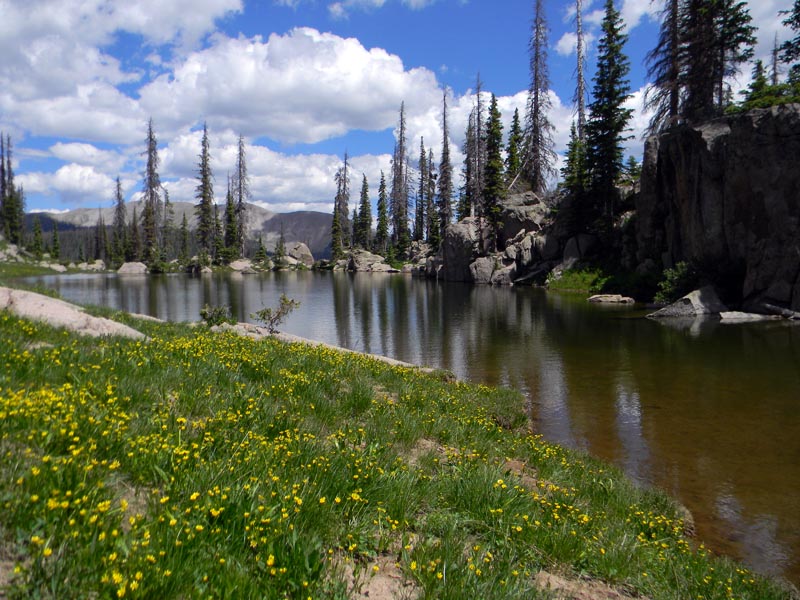 Then we hit the trail, so to speak. The terrain was often laterally steep as well as rocky, which required careful foot placement. I'm a person who tends to think in pictures, and if I start paying attention to those mental images, I may not notice where I'm putting my feet, which, as you can see from the image below, might not have been a good idea, and would have been disasterous in some places.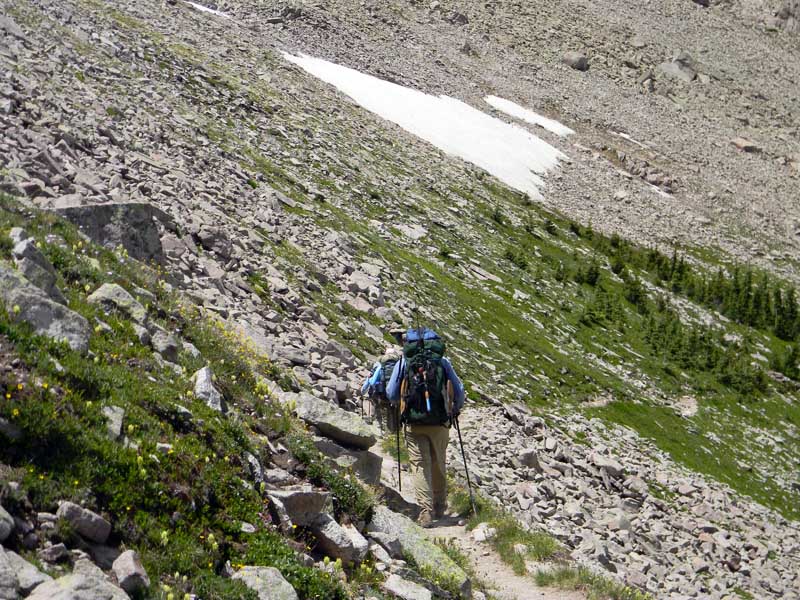 Tristan took many great photos of flowers on this trip. I regret that I can't use them all - but this one I cannot resist.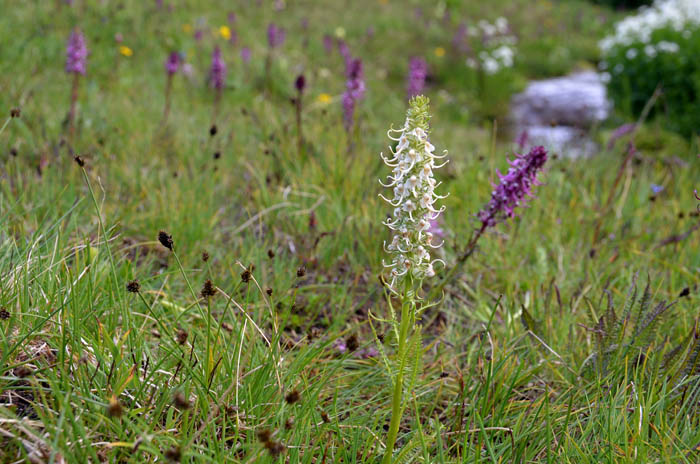 Photo Courtesy Tristan MacDonald
We got to Spotted Lake first. I had been there and camped there before, and it's a lovely lake. On the day before we started this hike, we passed two fishermen on the way up the Archuleta Lake Trail while we were descending the trail from a short day hike. Tristan talked to them when we arrived at Archuleta Lake today, and they had caught 45 fish in Spotted Lake. The two lakes are only about a mile apart.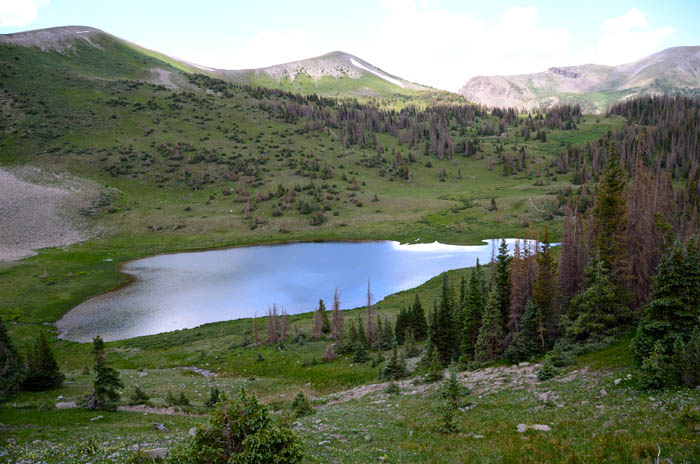 Spotted Lake
Photo Courtesy Tristan MacDonald
Shortly we arrived at Archuleta Lake, at about the same time as a brief shower, which caused me to unlimber my umbrella from the pack, but was not heavy enough to cause me to don my parka. There were two parties already camped there - the two fishermen referred to earlier, and a couple camping with 4 llamas, which are used as pack animals. It wasn't obvious to me why two people would have 4 llamas, but I didn't ask. There may come a day when I am not able to hike with a pack in these mountains, and a llama would be handy to carry my gear. Not yet.

Two of the llamas
Photo Courtesy Tristan MacDonald
The following morning, as I went down to the lake to replenish water supplies, three of the four llamas stood up, and gave me a hard stare, but did not make any noise. I don't suppose they would make good guard animals - and a bear might find them tasty.
This is a view of the lake from the north. Archuleta Lake is popular with both fisherpersons and campers, as it's only a few mile hike up a very scenic trail from the easily-accessible trailhead at Big Meadow Reservoir.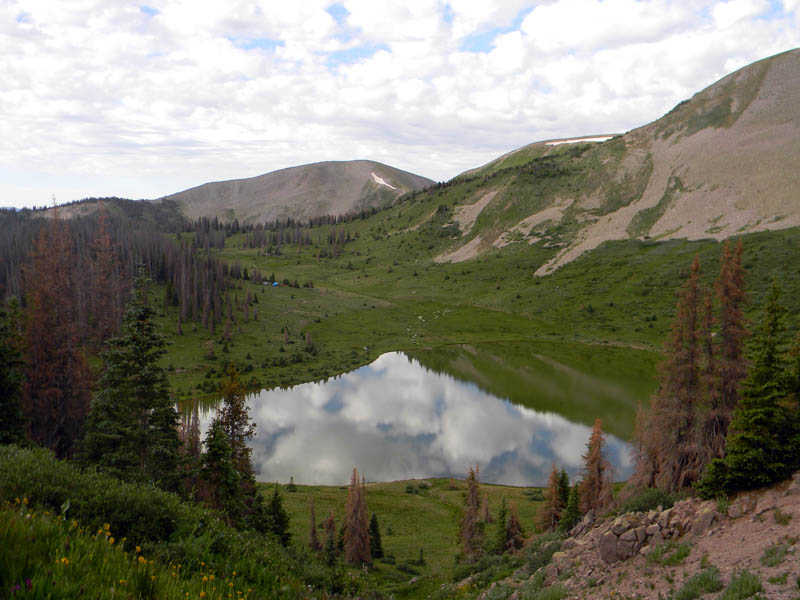 We hiked up the hill to the east of the lake, and found a nice place to camp. The first task was to replenish our water supply. Brittany and I hiked down to the inlet creek of the lake, and did that. Customarily in these mountains, both Tristan and I had used Katadyn Hiker water filters. For this trip, we were both carrying Steripens made by Hydro-Photon, Inc., which use ultraviolet light to sterilize the water. The manufacturer claims that the devices kill 99.9999 percent of bacteria, 99.99 percent of viruses, and 99.9 percent of protozoa when used as directed. The Steripen Journey which I carried, with a water prefilter to remove particulate matter, case, and batteries, weighed 7.8 ounces. The Hiker filter used previously weighed 11 ounces. The Steripen claims to treat 50 liters of water on a set of two CR123 batteries. I had not heard of the Steripen until Tristan showed me his, and I ordered one for this hike. I doubt that I will ever carry the filter again.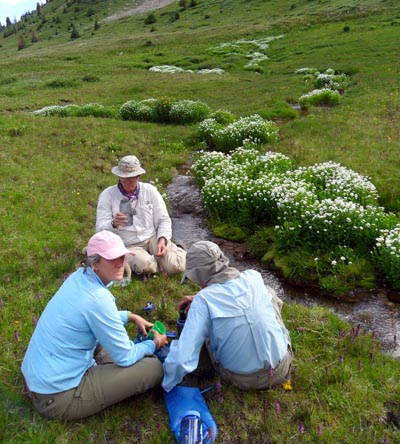 Water Detail
Photo Courtesy Zach Fraser
After treating our water, we lounged around in the afternoon sun, which had emerged after the brief shower.
You will note that we got hiking early in the morning, and stopped hiking in the early afternoon. This is to avoid thunderstorms, which this time of the year are a frequent occurence over the high country due to a pattern known as the Southwest Monsoon. Lots of information on the Monsoon may be found on the Tucson NWS Monsoon Information Site. The Monsoon results in frequent thunderstorms in the high country afternoons. I am a Marine, amphibious as all Marines are, of demonstrated waterproofness. I don't mind being wet. I don't wish to be struck by lightning, nor does any rational person, and hence our plans were to be off the Divide before the thunderstorms fired up.
While we were lounging around in the camp, a sizable mule deer doe was browsing through the grass nearby. She obviously knew we were there, as you can see in the picture below, but just as obviously didn't care.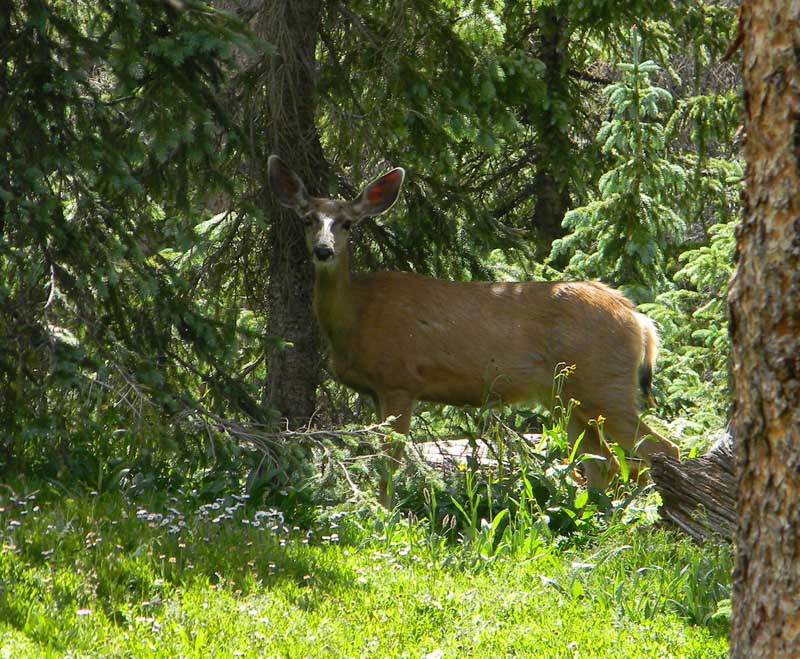 Eventually we got hungry enough to prepare dinner, which we did by boiling water for freeze-dried dehydrated meals. That didn't take long, and then we sat around enjoying the evening light. At this time of year, sunset occurred around 8:25, and we were in bed by full dark. The tent Tristan and I were in - see the green tent in the picture below - was open to the front, i.e., to the right in that picture. I was awakened during the night by the light of the rising moon through the screen mesh. It was only about a quarter moon, but the air is thin enough at that altitude for the moon to provide brilliant light. After the day we had, I immediately went back to sleep, but the moon was beautiful.
Day Two, July 23, 2011
Overnight, the temperature got down to around 37 degrees. I was in a 20-degree-rated North Face Cat's Meow bag, and I was actually too warm during the first part of the night. I really dislike trying to sleep cold. Daylight and my bladder capacity arrived nearly simultaneously, so I got up. After a breakfast of oatmeal and coffee, we started breaking camp - Tristan is packing up some of his gear, and the fly is already off the tent Brittany and Zach used.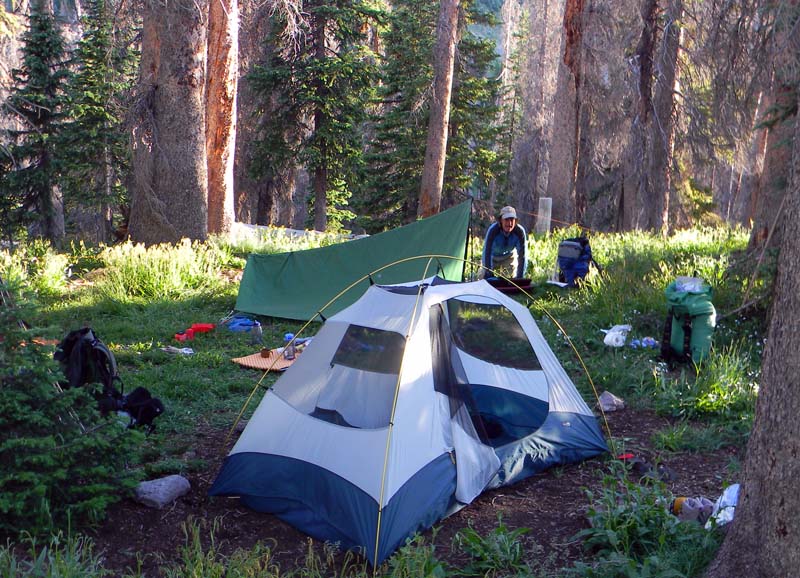 The trail profile for the day is shown below. As you can see, the trail climbs from 11,750 feet at the lake, to 12,403 feet, then back down to about 12,000 feet in the first mile. Sports fans, that's steep. We stopped often to look at the scenery - and catch our breath, having no choice in that matter. Total elevation change for the day was 6504 feet, with 3294 of that being going up, and 3210 feet going down.


We departed from the lake. Even getting to the trail above the lake took some huffing and puffing. The pack I'm carrying looks large, and is - but it isn't heavy. The first day, with all of the food for the trip, community gear, and 2 liters of water, it weighed 26 pounds. It got lighter each day as food was consumed. On a normal solo trip, my base load pack weight, i.e., with no food or water, is 15 pounds.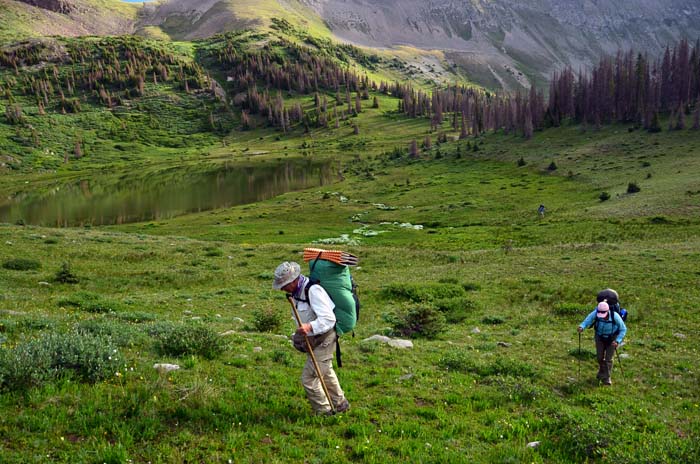 Lindy and Brittany climbing to the trail
Photo Courtesy Tristan MacDonald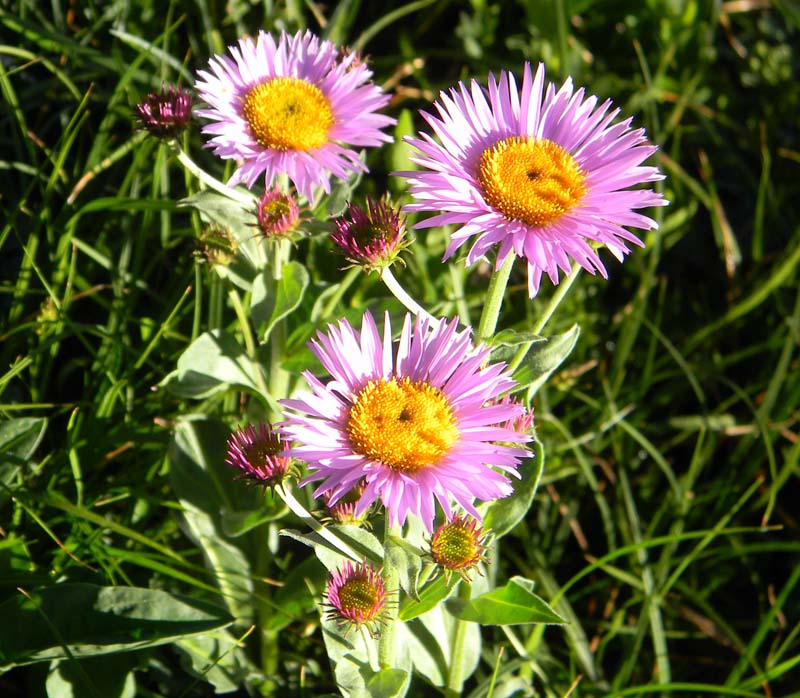 Asters alongside the trail on the climb up from the lake
Finally, we got to the first high summit, around 12,403 feet, and paused for a picture - and our breath.

Photo Courtesy Tristan MacDonald

After that, there was considerable walking of narrow trails along the actual Continental Divide.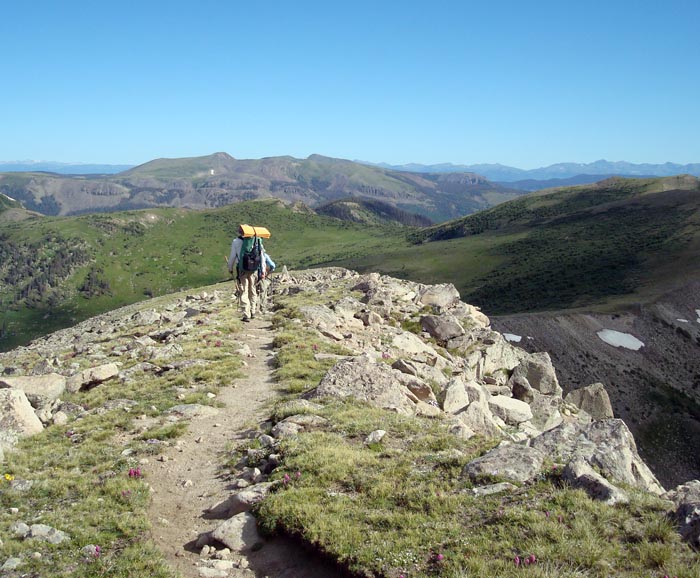 Photo Courtesy Brittany Fraser

Donna Ikenberry's excellent guidebook Hiking Colorado's Weminuche & South San Juan Wilderness Areas mentions a bench at around 6.3 miles on the trail. There was some question whether we'd find adequate water and shelter from afternoon thunderstorms there, but we did. The night before, Zach and Brittany had some trouble getting their tent up correctly. The problem might have been the wrong combination of tent and poles, a question still unresolved at this writing. Tristan, Brittany, and Zach has a field seminar on the proper erection of that tent, shown below, and with some modifications to the procedure, got a satisfactory result.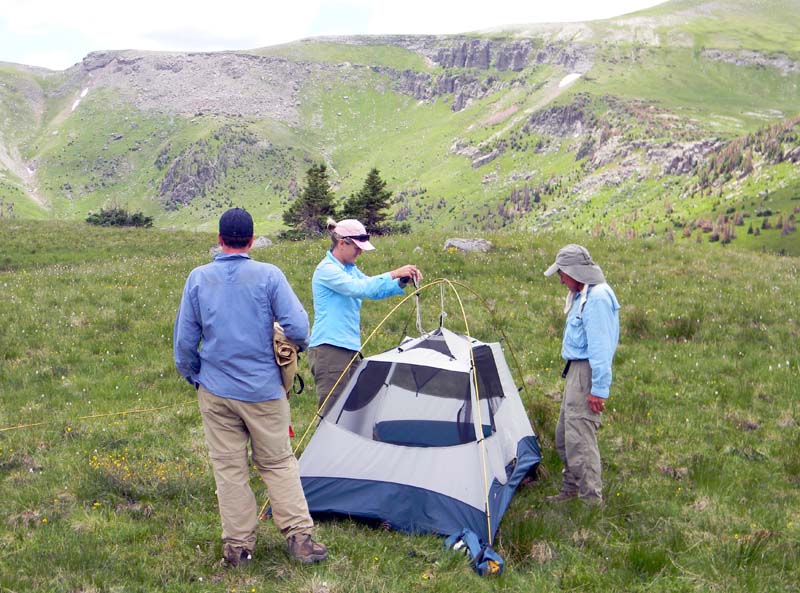 After another water detail, the crew sat around, and relaxed for some time. Note, however, the gathering clouds.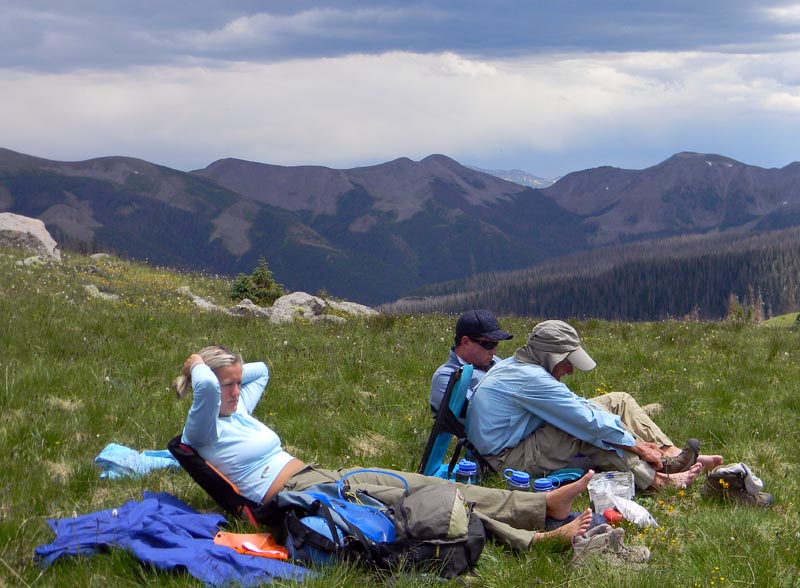 Boots off - let those feet dry!

Shortly thereafter, we were forced into our tents by a thunderstorm. I don't recall lightning strikes very close, but there were strong winds and heavy rain. Although the back of our tent faced the direction the storm was coming from, the wind shifted 180 degrees as the storm passed over. Tristan and I were forced to drop the front pole of our tent, and hang on to the fly to keep from being soaked. For probably an hour, we essentially had a two-man bivy sack in place of the tent. The air temperature dropped significantly, as rain from that altitude is always cold. We didn't get much water in, though. Tristan and I chatted about various things, including similar experiences, books we had read, and whatever else came to mind. I have passed many less pleasant hours with far less pleasant people.
An offer to the young folks to swap tents was greeted with laughter and derision. Eventually the storm passed, and we were rewarded with a rainbow to the east.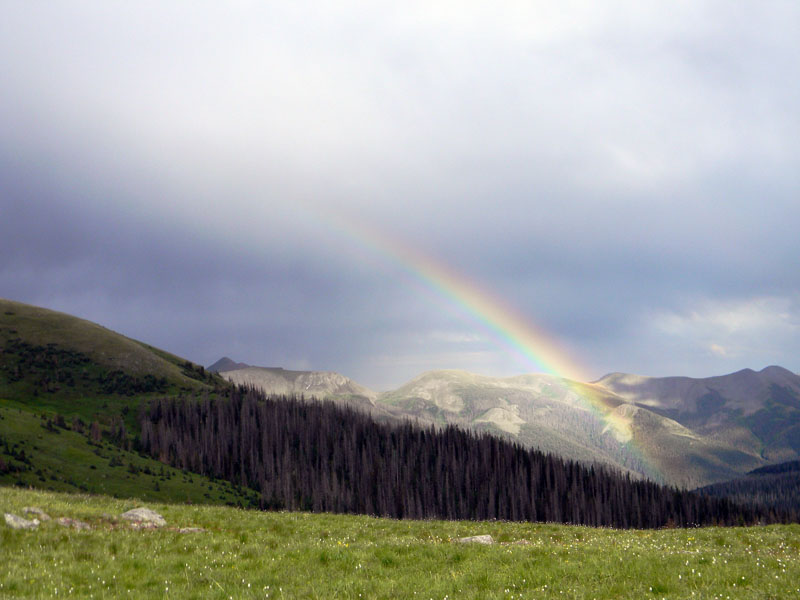 We fixed and ate dinner. As the sun set over the ridge to the west, we were rewarded further with this spectacular scene. Zach spotted two lone elk bucks silhouetted right on that ridge - but efforts to photograph them failed due to the distance, low light, and lack of a heavy tripod. And, yes, the white stuff below the ridge is snow.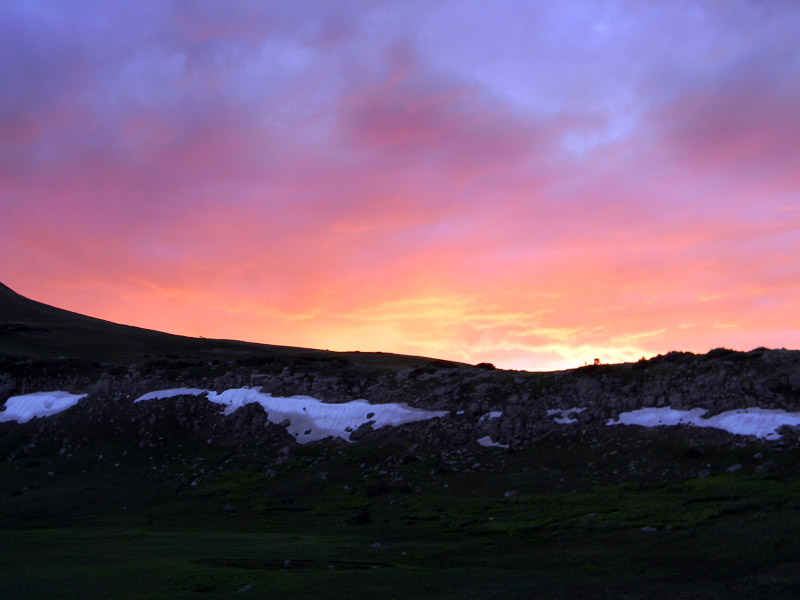 Day Three, July 24, 2011
We awoke to a temperature of around 43 degrees - the cloud cover overnight moderated the temperature - and this view to the west. The lake in the picture was our water source, and it was pretty free of particulate matter, though we did use the prefilter with our Steripens.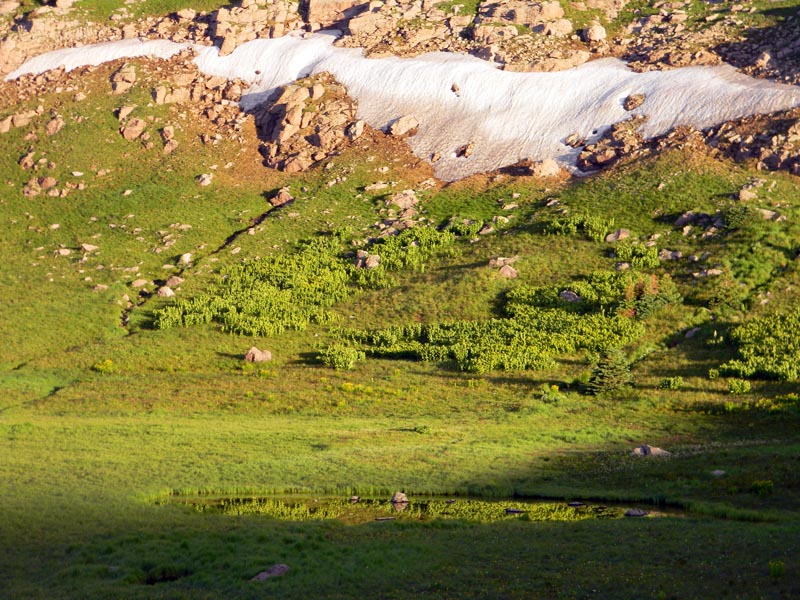 The trail profile for the first part of the day involves climbing 1786 feet up and descending 1188 feet in a distance of 2.3 miles, for an average grade of 26 percent! That would get us to the trail junction with the trail down to the Goose lakes.


From that trail junction, this is the profile for the rest of the day: 755 feet climbing and 1708 feet descending. The total altitude change for the day was 5437 feet.


After breakfast and breaking camp, off we went. We had to climb up to 12,847 feet by the end of the first mile - and that's why we really wanted to camp before having to make that climb, because we would climb still higher after the trail junction. Climbing up to the first peak, we saw a group of about 20 or so elk, a group which probably included the two bulls we saw silhouetted on the skyline at sunset the previous night.
The views from the trail were just spectacular. This one was taken down our backtrail after the summit of the first peak.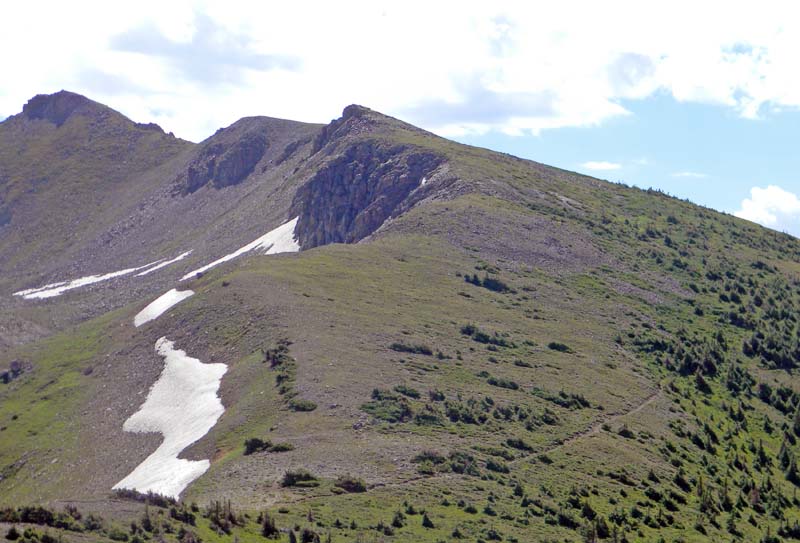 Another shot of our backtrail toward the first peak. If you look carefully, you can see the trail, as well as the flowers covering much of the ground.
Just before arriving at the trail junction, we came over a rise to see 5 very large elk bulls just looking at us. Tristan got a great picture of three of them.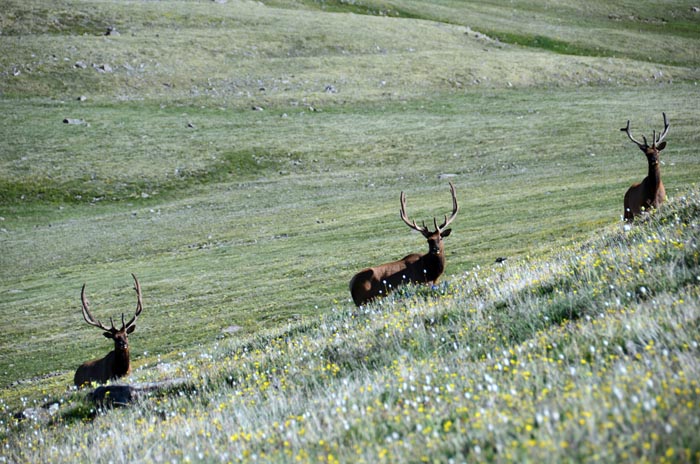 Photo Courtesy Tristan MacDonald

Shortly after that, we arrived at the junction of the CDT and the trail which lead down to the Goose lakes.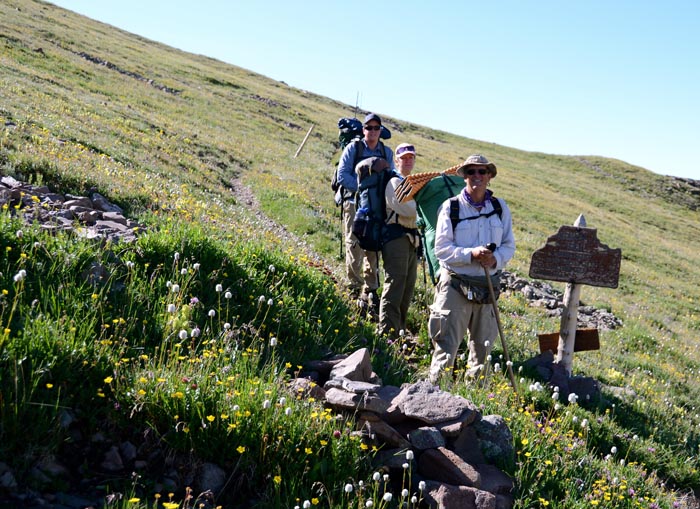 Photo Courtesy Tristan MacDonald

Continuing on toward South River Peak, we saw this group of elk - the cows probably are part of the bull's harem.

Photo Courtesy Tristan MacDonald

The trail just past South River Peak climbs to right at 13,000 feet - the peak itself is 13,149. The trail is narrow and rocky. Falling off the trail would be certain death. Caution is required, and we exercised it.
Zach with South River Peak behind
Photo Courtesy Brittany Fraser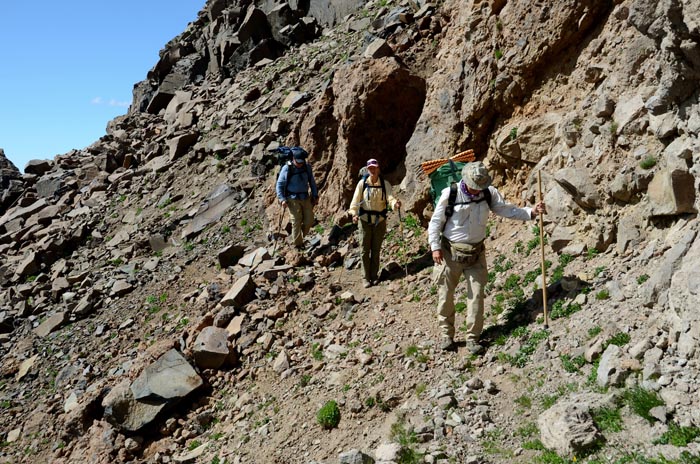 Picking our way
very
carefully below South River Peak
Photo Courtesy Tristan MacDonald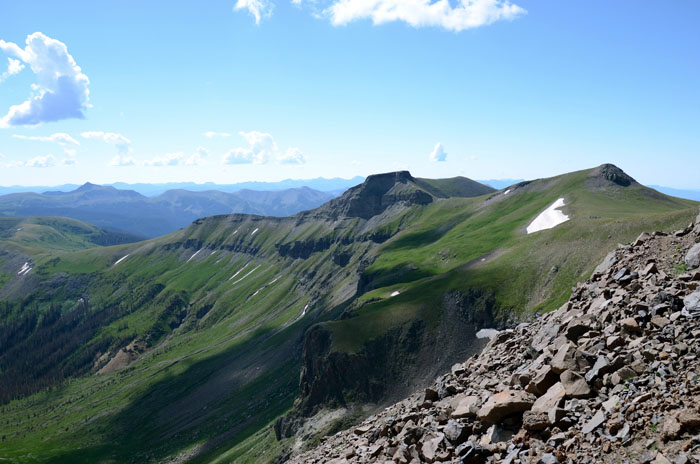 View from just past South River Peak
Photo Courtesy Tristan MacDonald
Once past South River Peak, the trail descended, and eventually we caught sight of Big Goose Lake.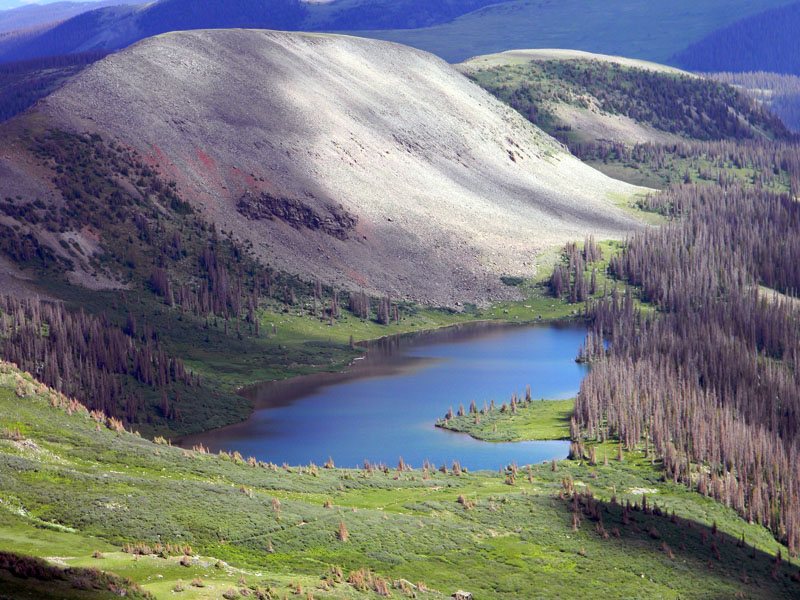 We continued down the trail. I stopped to take a picture of some King's Crowns and the colorful lichen next to the trail, which Tristan spotted.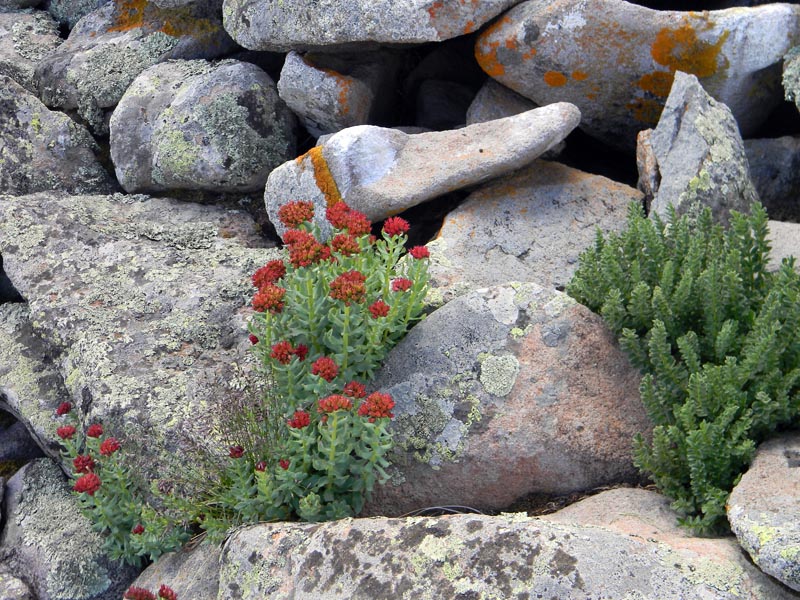 On the way down to Little Goose lake, which is unremarkable, we saw yet another herd of elk.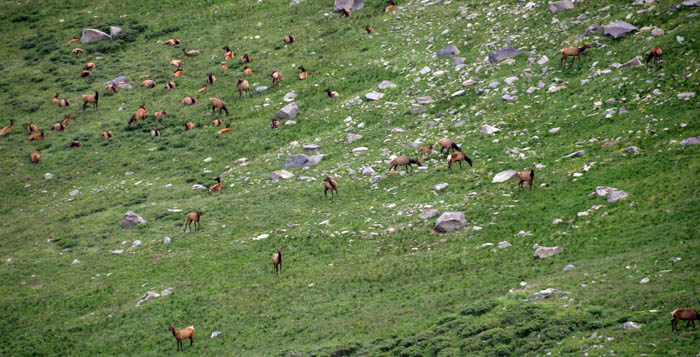 Photo Courtesy Tristan MacDonald
We lost the trail between Little Goose and Big Goose. We wound up following some creeks and some elk trails through heavy willows. However, that probably saved us both some distance and some climbing...
"Man is not a rational animal - man is a rationalizing animal." -- Elliott Aronson
Well, yeah, probably, OK. But we were in no danger of actually being lost, with several maps and two GPS receivers. We were just temporarily misplaced. Not the first time I have been so, and most certainly not the last.
While we were looking for the trail, Zach and Tristan spotted a snow bank still in a creek bottom.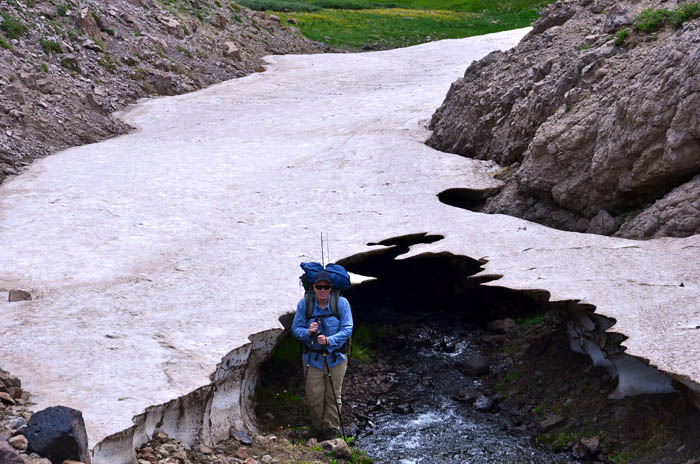 Hmm. No, I don't
think
this is the trail...
Photo Courtesy Tristan MacDonald
Brittany loves to sniff out lost trails - the problem is keeping up with her. She climbs like a mountain goat. We got to Big Goose Lake. The trail runs along the east side of the lake, and the flowers were spectacular.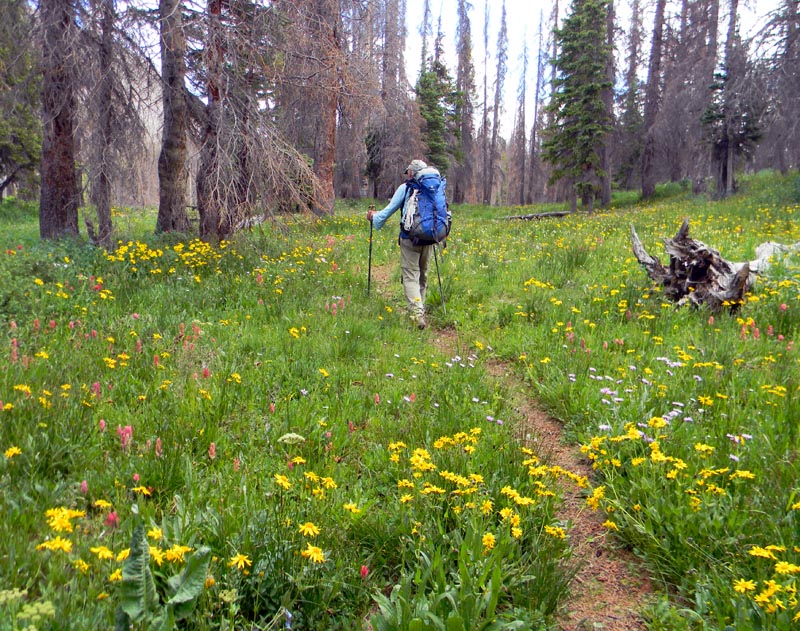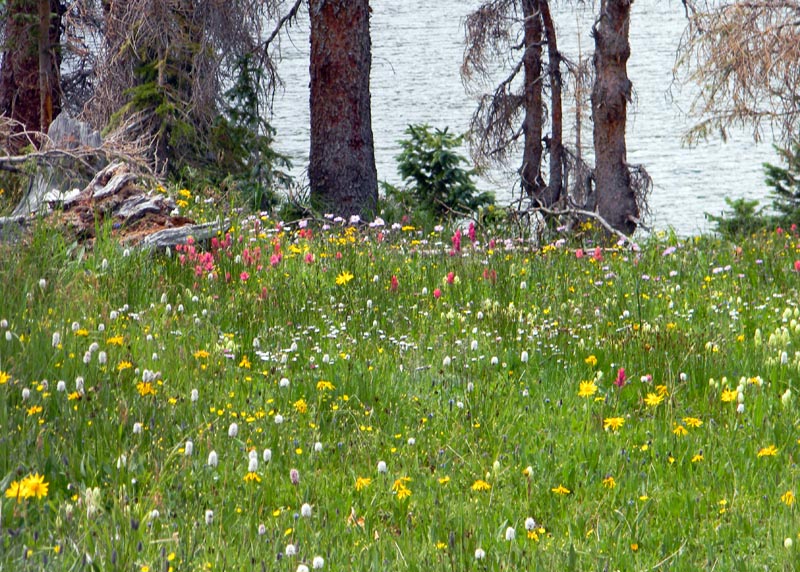 The flowers were spectacular. So was the quantity of flies. The area between the two lakes was full of elk scat, and that may have accounted for the flies. The flies didn't bite, but they were everywhere. They buzzed, they landed, they tickled. We decided that Big Goose Lake was not the place to spend the night, and it was still quite early - about 1:00 P.M. - and the weather looked good. So, Tristan decided that we'd head down the Ivy Creek Trail to it's junction with the old Deep Creek trail, where there were a couple of spots on the maps which looked like little ponds. That would also get us closer to the trailhead for the next day's hike. After refilling some, but not all, of our water containers, that's what we did.
It was less than 2 miles down to that spot. When we arrived, we found a lovely meadow in which was standing the bull elk in the picture below.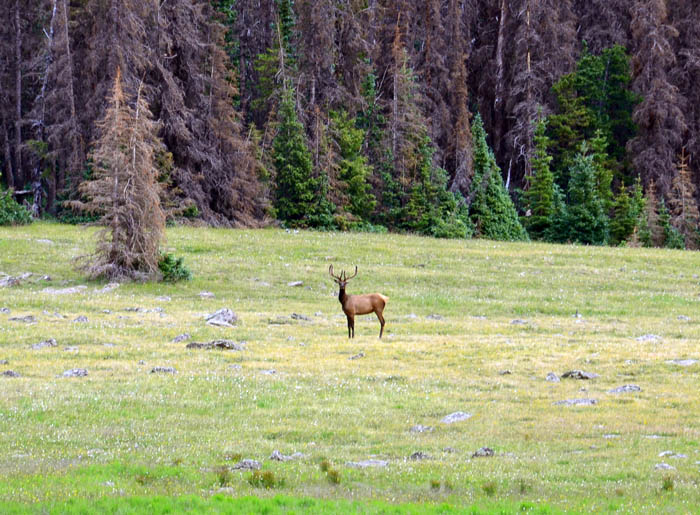 What
are
you people doing in
my
meadow?
Photo Courtesy Tristan MacDonald
However, one of the two ponds was dry, and the other was heavily contaminated, probably with elk fecal matter, and it was judged imprudent to use it for a source of drinking water. After a conference and a check of the available water, we decided that we had enough for Happy Hour and dinner, but not breakfast. The plan was modified to stay there for the night, then pack up early, and hike to Ivy Creek for breakfast.
The meadow was lovely, with lots of flowers, and we camped near the edge with the trail running through it.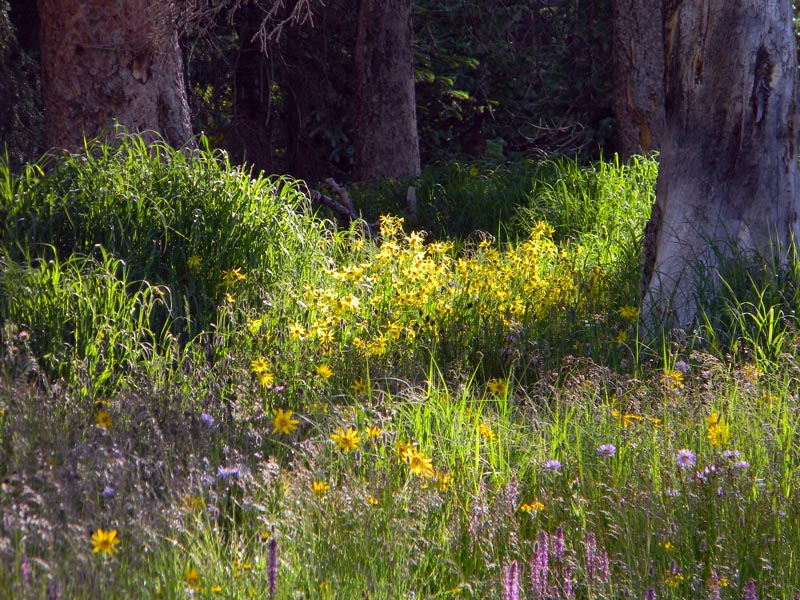 During this hike, Tristan was carrying a SPOT transmitter, and periodically sent out position messages to Alex. I was carrying a SPOT transmitter which my DeLorme PN60W GPS communicated with via Bluetooth. That allowed me to send out text messages of up to 41 characters, as well as position reports, and SOS messages to Search and Rescue organizations, as does Tristan's. My text messages were going to my sisters, to Alex, and also posted on Facebook. Shortly after arriving, I sent the following message out to Alex: "Hiking party begs for cold beer at TH." - TH being the abbreviation for trailhead. Alex and Tristan most often hike together - she has lots more trail mileage than I do, and I knew she would figure that out - and she did.
We relaxed a bit, then got down to the more serious business of Happy Hour, in a lovely spot near the edge of the meadow. One thing the pattern of getting down early in the afternoon does is to leave plenty of time for relaxation and looking at the sky. The pictures in this article should give the reader an idea why I don't feel the need to have any means of watching television during the summers in Creede - and if they don't, see my 2011 Creede Summer Journal. I have cable TV in my winter residence, but I'm convinced that watching television kills brain cells, which I, for one, cannot spare.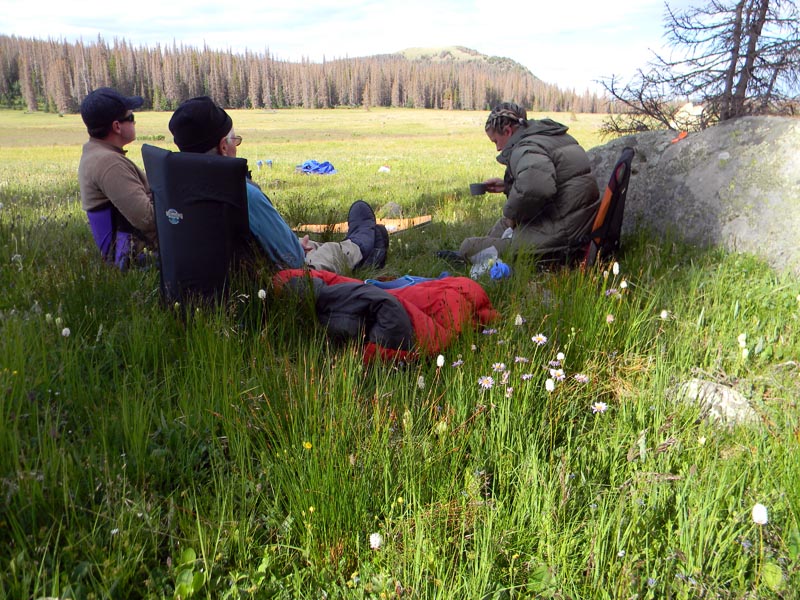 We had dinner after putting up the tents, and then built a small fire and settled in to watch the sunset. If you are concerned about the danger of fire, rest easy - you couldn't have set fire to that meadow with napalm. The dry pond is right behind Brittany, and a reflection from the one which wasn't dry can be seen beyond. The peak behind is called Beautiful Mountain. It looks pretty bare, and I'm not sure why it was named that, but in the setting sun, it surely was beautiful. Brittany has put on a jacket and hat - the air temperature drops quite quickly once the sun is no longer on you.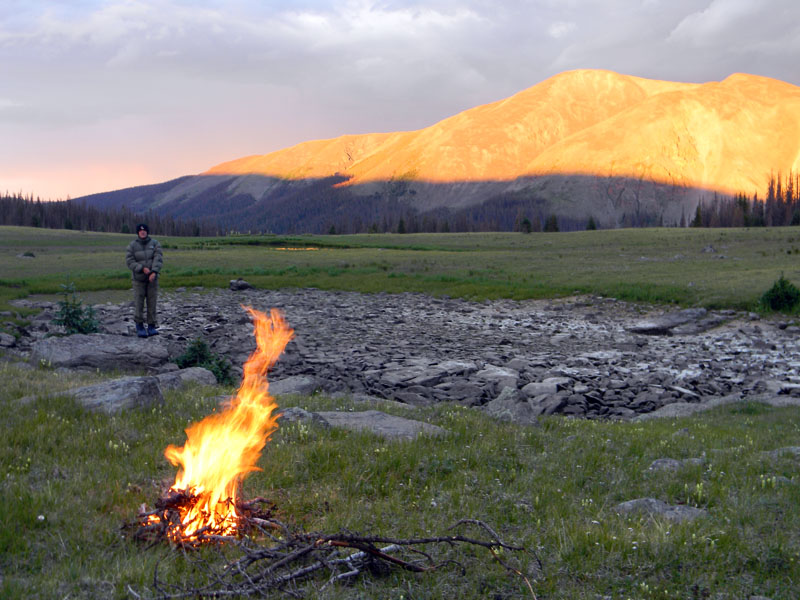 The sky just kept getting better. Please note that in this entire article, no color alteration has been been done to the pictures. What you see is what the camera recorded. Given that the dynamic color range of the human eye is wider than what the camera can record, what we saw was better.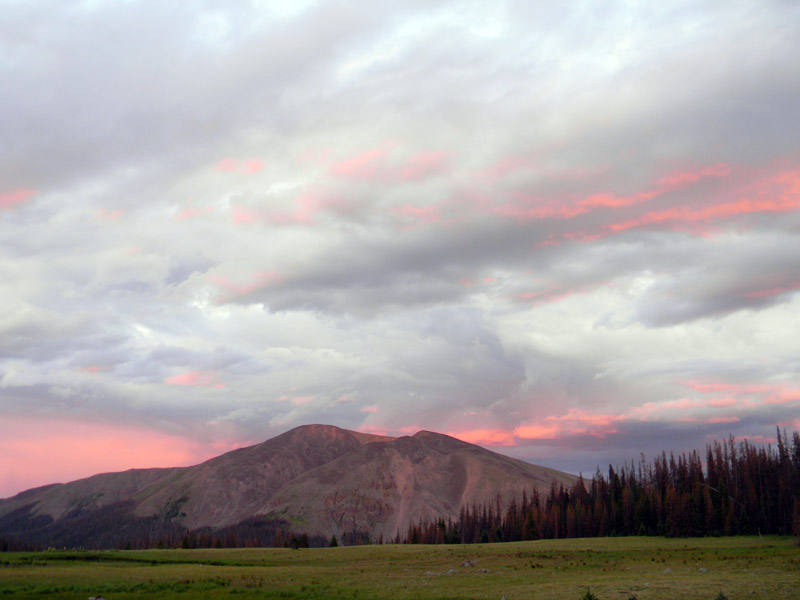 Day Four, July 25, 2011
We awoke to a chilly morning. Though the tiny thermometer on my waistpack zipper-pull read in the mid-30's, there was ice on my umbrella which had been laying outside overnight. With nothing else to do, we packed up quickly, and headed down the trail.
This day offered us 7.1 miles, mostly descending of 2627 feet, with only 277 feet of climbing. The profile shows only 6 miles, but I believe that's because the digital map in my laptop computer doesn't accurately detail the many switchbacks on the trail down to the level of Ivy Creek. The 7.1 mile figure is what my GPS recorded that we actually walked.


We walked a short distance, then began to negotiate switchbacks down to a lovely meadow at the level of the creek drainage.

Photo Courtesy Zach Fraser
It was about 3 miles down to the Ivy Creek stream crossing, where we ate breakfast. While doing that, I sent out a text message to Alex with our estimated time at the trailhead. Then we crossed to the west side of the creek, and headed down the trail. I have never been down Ivy Creek before, and it was lovely, with many good camping places in open meadows, and lots of flowers. Enticed by the prospect of a cold beer at the trailhead, we didn't linger to take pictures, but I did mark a waypoint in my GPS at a great camping spot which I might well return to someday from the trailhead.
We crossed the stream again to the east side, which we stayed on. Not far from the trailhead, we encountered a couple dayhiking up the trail - and we realized that these were the first humans we had seen since leaving Archuleta Lake, a distance on the trail of almost 20 miles. Mountain Views RV Park, where I spend the summer, has a very active hiking population - and it's unusual, as we rarely encounter other people on our hikes. The Weminuche Wilderness is just under 500,000 acres. I've hiked several hundred miles in it, and usually encounter other people near trailheads, which means they aren't walking very far. I frankly think that's a pity - although I also enjoy the solitude.
We reached the wilderness boundary marker, and paused for a picture.
A word about pace. For many years, my rule of thumb for carrying a pack over trails is 2.5 miles per hour, and add a half-hour for every 1000 feet of either ascent or descent. For example, on the first day, we did 9 miles with 9,000 feet of elevation change. By my rule of thumb, 9 / 2.5 = 3.6 hours. Adding 9 * 0.5 = 4.5 to that, it should have taken us a little over 8 hours to get to Archuleta Lake. It actually took us about 5 hours and 15 minutes. So much for my rule of thumb. On the days I tracked our average while moving, we were making about 2.2 mph, except the last day which was 2600 feet of downhill, when we made 2.6 mph. Of course, that might have been because we wanted to get to the trailhead and cold beer...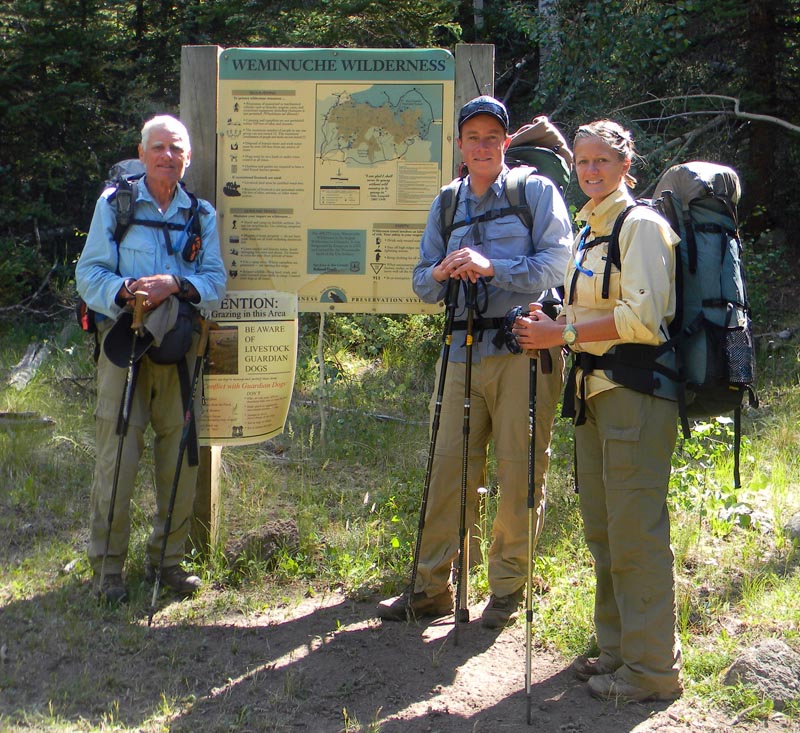 We continued down to the trailhead, and low and behold, there was Alex - second from the left below - with cold beer! No one can ask nor should expect better friends than those who will bring you cold beer to a trailhead after 4 days in a wilderness!

So, the final numbers: 4 days, 32 miles, 23,870 feet combined elevation change, through some of the most beautiful terrain on the continent, perhaps on the planet - which the gentle reader can judge for themselves - with three other very compatible people having a good time. Those four other people in the picture above are now dear friends - and I hope to hike many more miles with all.
During the course of this hike, I must have said "Wow!" a hundred times. We had conversations about needing to come up with a superlative to describe the scenery which is not overused. "Awesome" is trite and overused. Alex suggested "lovely", but added that it has connotations to a person of British origin which it does not to most Americans. No one has, so far, come up with a suggestion which seems to work.
I said to someone afterwards that the hike was the most fun I've had in many years with my clothes on. And it was. If my words and the pictures we took convey to you a picture of four friends having an absolute blast in a beautiful wilderness, I have succeeded, because that's what we did. And the only way to see what we did is to get off your butt and start walking.
My thanks to Tristan, Brittany, Zach, and Alex for sharing their photos - and their trip - with me. It was one of the finest outdoor experiences of my life.
So, what's next?
---
Lindy@arcanamavens.com
&copy 2011 by Linden Sisk, Tristan MacDonald, Alex MacDonald, Brittany Fraser, and Zachary Fraser
All Rights Reserved