---
The denizens of the Mountain Views RV Park in Creede, Colorado, have a hiking group which convenes every Thursday morning for a hike. On July 7th, we got together to go up Copper Mountain. Now, there is no geological feature on the maps of the area which I have, identified as Copper Mountain. There is, in fact, a town in Colorado named Copper Mountain, on I70 west of Denver, the site of a well-known ski resort. This is not that Copper Mountain.
What we call Copper Mountain is a mountain at the top of the Copper Creek drainage. If you are interested in the map location, it can be found at 37 degrees 35.9840 minutes north latitude, 107 degrees 2.8008 minutes west longitude. In more familiar terms, it's about 18.5 miles south southwest of Creede, Colorado.
We had a more sizable group than usual - 27 people. We drove to the trailhead in about 6 vehicles. By road, the trailhead is about 21 miles away. We proceeded down Forest Road 523, then up Forest Road 524 to the trailhead at 11,037 feet. The last three miles of that route, above Love Lake, are very rocky, and at times require slow going. Then, as they say in the vernacular, we hoofed it.
We split into two groups, one of about 14 hikers who wanted to get to the top of the mountain, and the rest in a group which chose to proceed at a more leisurely pace, enjoying the scenery and the flowers. Some degree of haste was necessary for the group going to the top, because the Southwest monsoon pattern has set in, and rain showers and thunderstorms are now part of the climate.
Off we went. We proceeded at a fairly fast pace set by the hike leader, Tristan MacDonald. More about Tristan later. We walked up the remainder of Forest Road 524, which above the trailhead was mostly impassable to vehicles as well as heading into a wilderness area, then took off on an easily followed trail through an open meadow. That trail is also used by people on horseback, and as such trails tend to do, in places the trail became a deep rut, and people walked beside it, as the group below is doing in that meadow. We were in fact caught on the trail by a group on horseback, and we stepped off the trail to allow them to proceed ahead of us.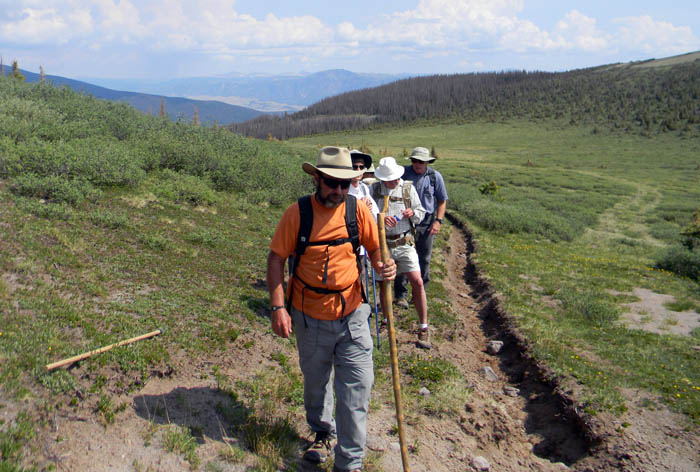 At the end of the meadow, we started up a grade toward a saddle, where we stopped for a short break and some Kodak moments. The scenery was lovely in all directions from the saddle.
After an inital steep climb above the saddle, and a longer walk of lesser grade, we finally reached the top of what we are calling Copper Mountain, at 12,447 feet. The views in all directions were superb.
Just to the right of the gentleman in the orange shirt is Piedra Peak, which is about 100 feet lower than where we were.
There is a cairn marking the top in the picture below. There is a water bottle with a logbook protected by the cairn, and all the members of the group which summited signed the logbook.
As one can see in the picture above, clouds were gathering, and our leader wisely decided it was time to beat feet off the top to minimize the risk of lightning - and that's what we did.
We could see rain in several directions, and heard some thunder, but we got nary a drop on us enroute back to the trailhead. We stopped for a few minutes to have some lunch, although several of us had been grazing on various kinds of trail snacks as we walked. One lady who shall remain nameless stated that she had to eat, or she gets cranky. Me, too.
One final comment. Our hikes are lead by Tristan MacDonald, pictured on the right in the photo below, and his lovely wife Alex on the left.
I am frankly in awe of both of them. They are the nicest people imaginable. They hike these mountains nearly every day, not just on the days of our group hikes. And Tristan has had both hips replaced and one knee. He's 75 years old. He goes up and down the mountains at the same steady - and pretty rapid - pace, which he says he learned to do in the military, which happened to be the British Army. He's a shining counterexample to the people riding around carts in Walmarts because they are too fat to walk.
It's probably rude of me to say that. I don't care. My email address is on this page. If you're offended, feel free to write. If I find your missive interesting and entertaining, I may reply.
I'll be 65 years old this month, and I hope, in 10 years and long after, also to still be striding through these mountains which I love.
My sister Judy voiced some time ago what we have come to call Judy's Rule: "You get to keep doing what you keep doing." It's a good rule. I recommend it.
---
lindy@arcanamavens.com