---
Some friends and I were contemplating a hike up to San Luis Peak, which is one of the peaks above 14,000 feet in Colorado. We were going to do it Sunday, July 10, but decided to postpone it until later, as the Southwest monsoon season has set in, and we didn't want to encounter a thunderstorm at that altitude.
So, I decided to get up early, and take a look at San Luis Pass as a conditioning hike, as I had never been up that trail before. I left the RV park about 6:30 with a cup of coffee, a banana, and a granola bar to eat on the way. I drove up Forest Road 503 to the Equity Mine, and parked by the mine at 11,100 feet. I actually could have driven another 8/10ths of a mile up the 4WD road above the mine, but I didn't know that, and it can be hard to turn around a truck which is twenty-two and a half feet long on a bad road. As it turns out, there was a Ford Explorer with less ground clearance than my truck parked right where the road takes a 90-degree turn to the west and goes almost straight up. Next time, that's where I'll park.
I loaded up, and headed up the valley toward the pass, following a trail on my DeLorme map. After a bit, it became apparent that the "trail" was actually a faint trace of an old sheep-herders trail, so I crossed West Willow Creek back to the main trail. After about 2.5 miles, I reached San Luis Pass at 11,947 feet. There 3 trails cross at the marker below - the Continental Divide and Colorado trails run east and west through there, Cascade Creek runs north, and the West Willow Creek trail, which I just walked up, runs south.
The view to the north includes a very distant mountain range. We are still getting some smoke from forest fires to the west and south, but you can barely make out that range below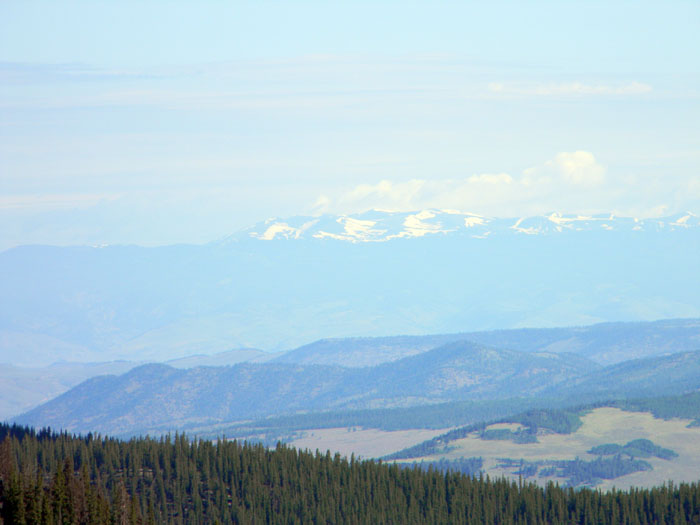 The CDT/CT going west from the trail junction, shown below, has some serious altitude gain to it. I may take a crack at doing the trail from the Spring Creek trailhead down to this trail junction later in the year. That would be about 14&1/4 miles, with 14,000+ feet of elevation gain and loss, and all but the first mile or so above 11,000 feet.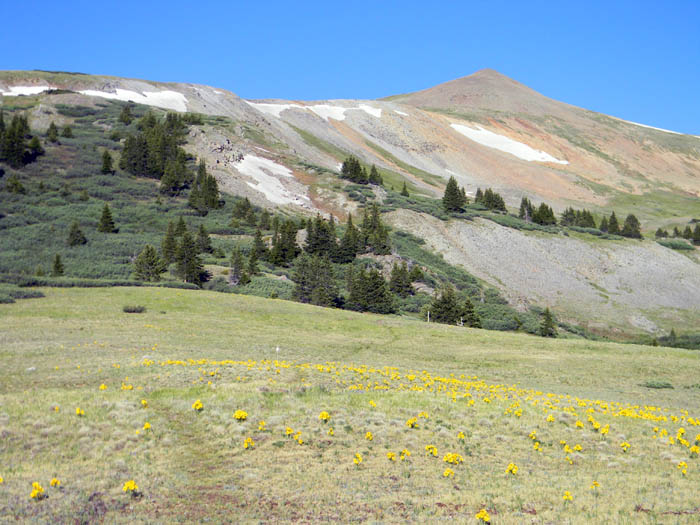 After taking some pictures and drinking some water, I took off on the CDT and Colorado trails to the east. The climb was steep - up 410 feet in 6/10ths of a mile, which is a 13 percent grade. Once I got up to the top, I stopped, because even though it was just after 9 A.M., I was starting to see some clouds. The trail descended from there, and I didn't want to get caught by thunderstorms. In the picture below, the peak above the trail marker is San Luis Peak, which we may get up one day when the weather is better.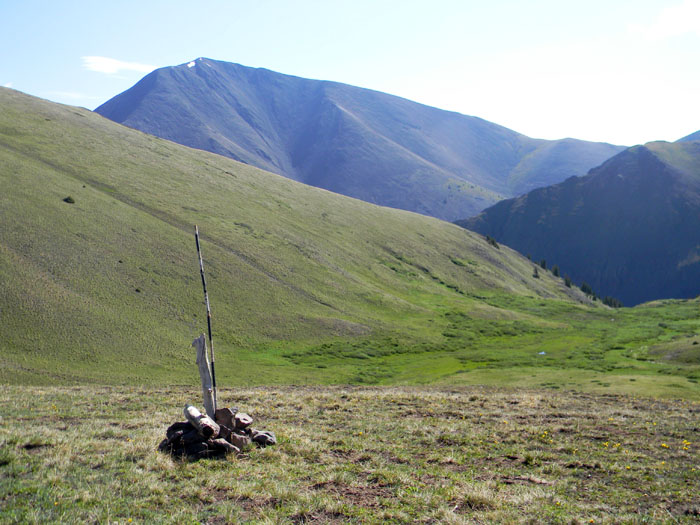 The trail markers are necessary, because up high the trail is often under snow all winter, which tends to make the trail hard to follow - hence the markers. You can see the trail to the left of the marker - and there is still snow at that altitude, which about 12,360 feet. It sure is pretty, though.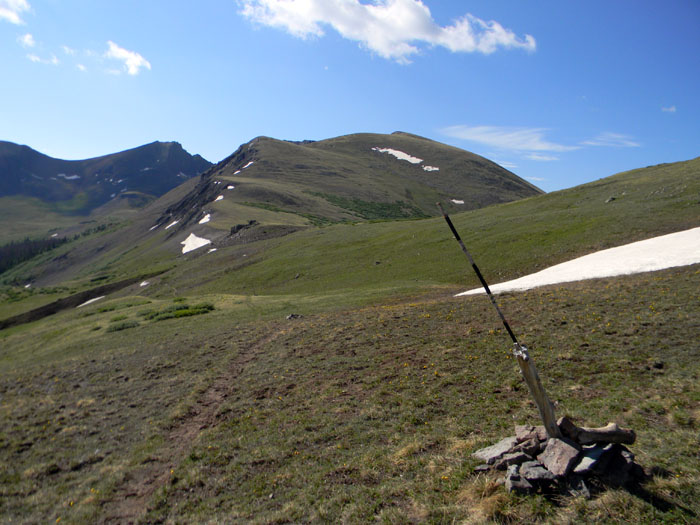 I turned around, and walked back down to the pass, then back down West Willow Creek trail toward the truck. I stopped on the way to take a picture of some flowers which are now everywhere one looks at that altitude.
About halfway down to the truck, I passed an amusing sight. Walking up the trail toward me was a young lady and two husky men, accompanied by two dogs. The humans were wearing t-shirts and shorts. The young lady was the only one carrying a pack. If they find themselves in rain - and there was a solid cumulus cloud deck by now back toward the pass - I hope that pack had rain gear for all of them. If it rains, rather than hails, the rain will be just above freezing.
But, if not, they will get some experience about walking in the mountains improperly prepared. As a friend of mine said long ago, "Good judgement is the result of experience. Experience is the result of bad judgement." Hypothermia kills more people yearly than lightning, which is something useful to keep in mind.
And I'm not being hypocritical - I have a lot of experience...
So, I got about an 8 mile hike in, round trip, with about 2600 feet of elevation gain/loss total and I was back at my house drinking a beer and editing this page by noon. - not a bad way to spend Saturday morning in the sun.
---
lindy@arcanamavens.com