! Patagonia <!
---
The pictures on this page may be assumed to be the author's unless otherwise noted.
---
"You are nothing to the mountain, nothing to the ocean. You can sometimes make one mistake, sometimes two. Then you die. In earlier times the possibility of death was a given -- now we have this cell-phone culture where you always expect to be saved. Suddenly people are shocked when somebody dies."
— Mark Jenkins, climber and writer
Warning: The route described in this report should only be attempted by people in excellent physical condition, and who have extensive hiking experience. Equipment required to survive unexpected severe weather, including temperatures below freezing even in the summer, torrential rain, hail, sleet, and snow, is mandatory - unpredicted storms are not unusual in this area.
While this route described lies entirely within a Chilean national park, it is not just a walk in the park — as you will see. If you are injured, I am sure that the Park authorities will evacuate you — eventually — but many regions of the park are remote, and in many cases, a helicopter evacuation will be the only viable method to get you out. If you are headed for this area, I strongly recommed that you purchase insurance which will cover medical expenses and evacuation costs, bearing in mind that your normal medical insurance does not provide coverage in foreign countries.
Sweetie, if you're not living on the edge, then you're taking up space.
— Florynce Kennedy, 1916 - 2000
---
Tristan MacDonald, John Tesdorpf, and I have hiked in Patagonian Andes in Argentina in 2012. Details of that hike may be found in Los Viejo Mochileros in Patagonia. If the opening to this page looks like that one, it is intentional, and appropriate. We were returning to the same mountain range - only further south, and with additional team members.

And so it began.
Note: Elevations shown on maps are in meters.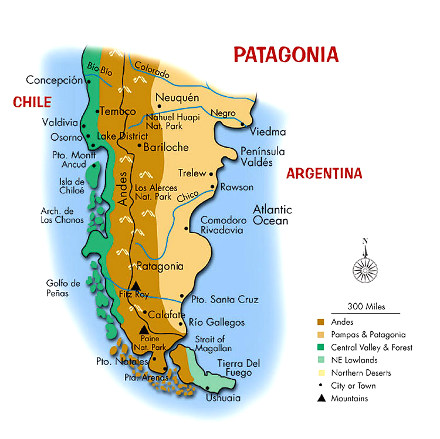 "An otherworldy range of mountains exists in Patagonia, at the southern end of the Americas. It is a sublime range, where ice and granite soar with a dancer's grace. From the mountains' feet tumble glaciers and a dark forests of beech. The summits float in the southern sky, impossibly remote. Climbers who gaze upon these wonders ache to unlock their secrets. Hard, steep, massive, these might be our planet's most perfect mountains.

To court these summits is to graft fear to your heart, for all is not idyllic beauty among the great peaks of Patagonia. They stand squarely athwart what sailors refer to as the 'roaring forties' and 'furious fifties' -- that region of the Southern Hemisphere between 40° and 60° south latitude known for ferocious wind and storm. The violent weather spawned over the great south sea charges through the Patagonia Andes with gale-force wind, roaring cloud, and stinging snow. Buried like a rapier deep into the heart of the southern ocean, Patagonia is a land trapped between angry torrents of sea and sky."

from Enduring Patagonia by Greg Crouch


But we are not climbers - we are Mochileros, a word derived from the Spanish word "mochilla", which means backpack. So, we are backpackers, and we were not attempting the summits, but looking for a beautiful hike in the mountains. Torres del Paine — "Torres" is the word for tower — and "Paine", pronounced "pine-a" is a word whose origin is obscure, is a Chilean National Park. So, just another walk in the park, we thought. And so it was — mostly...

John Tesdorpf and Tristan Macdonald are from St. Augustine, Florida. I hang out during the winter months in Addis, Louisiana. The additional members for this hike are John "JJ" James, also of St. Augustine, and Sally Dietterle, of Vancouver, Canada. Tristan, John Tesdorpf, and I had bumped into Sally on the Camino de Santiago earlier in 2013. With friends, she was hiking the 477 miles of the Camino from Saint-Jean-Pied-de-Port, France, to Santiago de Compostela, Spain, carrying backpacks with all their gear, and staying in hostals, so we had little doubt that she could handle the route.

JJ and John Tesdorpf went to high school together, and had done a lot of hiking both with John and Tristan.

I began my journey by driving 650 miles to St. Augustine a couple of days before the departure, so that we could sort out gear and load issues. On Monday, John, JJ, Tristan, and I drove from St. Augustine to Miami to catch the 11:45 PM LAN Air red-eye to Santiago, where we would meet Sally, who was coming from Vancouver via Los Angeles and Lima Peru. The four of us ran into some confusion about where to check in, as American Airlines and LAN code-share on flights to Chile, and on this leg, we would be flying on an American Airlines aircraft. Earlier experience has led us to believe that LAN Air has superior equipment and service on this route, and so it would be again. While the AA aircraft was a 767, it was not very new, and not kept up to the standards of LAN.

I had a new pair of Bose Quiet Comfort 20 in-ear noise-cancelling headphones, and with those on playing Bach from my iPod, I snuggled down into my neck pillow, and went to sleep. I will not fly any distance again without those headphones - they eliminate jet noise. They are functionally superior to the Bose QC15 headphones I had before, which are the over-the-ear type, and too bulky for practical travel.

After landing, JJ went off to pay the $160 "reciprocity fee" required for U.S. and Canadian citizens to enter Chile. Tristan and I had paid the fee the year before — it's good until the expiration of your passport — and John, as a citizen of Sweden was not required to pay the fee. We all cleared Customs and Immigration, and after re-checking bags for the next leg from Santiago to Punta Arenas, we found Sally in the terminal, and went to have lunch.

We boarded the Airbus A320 for the next leg, and departed on time. We landed at the intermediate stop at Puerto Montt, Chile. We taxied out to the runway after unloading some passengers who volunteered to stay in order to reduce the landing weight at Punta Arenas due to high winds — and then returned to the terminal. There was some problem with the aircraft. After a while, it was fixed, and we took off about an hour late. Our flight was originally scheduled to arrive at 6:30 PM, and we hoped that we might catch the 7:30 bus to Puerto Natales, rather than the 9:30 bus we had reservations for. (I won't detail what it took to make those reservations, but if you ever contemplate making that trip, call me.)

After arriving, we were told that there were no more buses that day to Puerto Natales. Eventually, equipped with the phone number of our bus company, a helpful person at the information booth in the airport confirmed that our bus company was in fact running a bus at the appointed time, and so they did.

We arrived in Puerto Natales after midnight, and caught taxis to the Hotel Aquaterra, where we had reservations. It is a small and lovely hotel, and we stayed two nights there, when it became apparent that we couldn't get everything done in time to depart to the park early the next morning. The next day, we wandered around the town, did some shopping, stopping for coffee, and having dinner at a very nice restaurant. We also bought bus tickets for the next day's ride to the park. Tristan and I purchased excellent maps with latitude, longitude, and UTM grids on it, which I had been unable to find before leaving. That meant that with my GPS, I would always be able to determine exactly where we were. The trails in the park are sufficiently well marked that I didn't need to do that except once, and used the GPS to track the distance we had walked, so I would also know the distance to the next destination.

So, here is the layout of the park.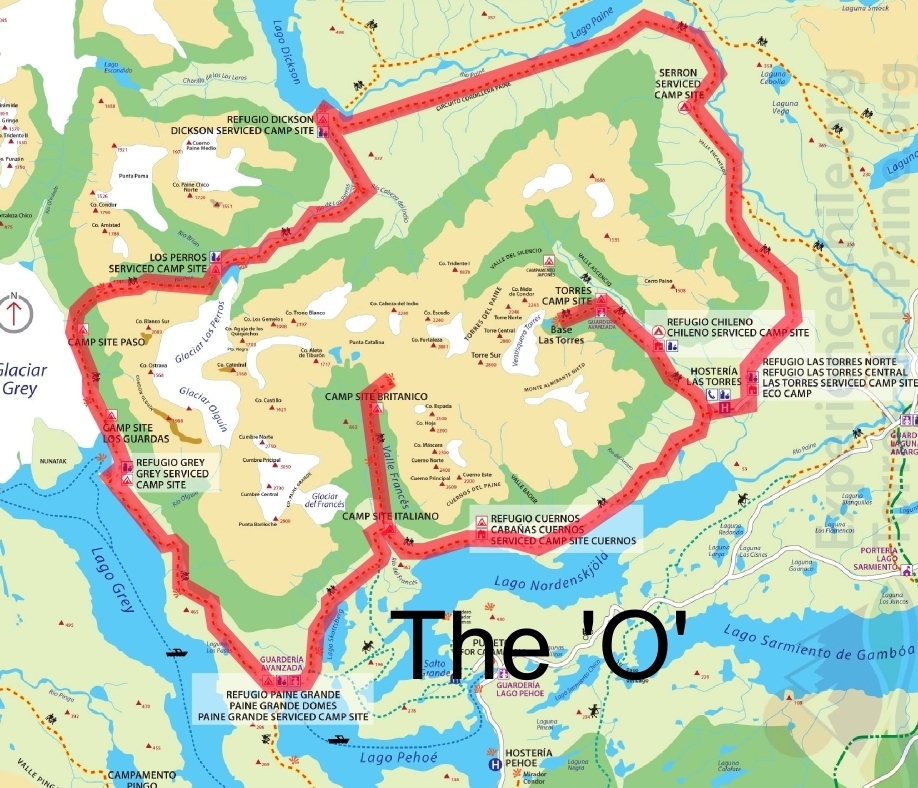 Day One: Paine Grande to Refugio Los Cuernos
After an early breakfast, we went to the bus station, and began the ride to the park. The 2&1/2 hour trip goes through cattle and sheep country, with snow-covered mountains in the background.
We arrived at the park entrance, paid the entrance fee of about $36 per person, and listened to a briefing on the park rules. (No fires, anywhere, ever, but camp stoves are permitted, you must camp only in designated sites, and some other rules which were unimportant or ignored.)
Then we got back on the bus, and rode down to the dock for the 30-minute ride on a catamaran which would take us to our starting point for the hike at Paine Grande. Our original plan was to hike from Paine Grande to Camp Brittanico. On arrival at Paine Grande, the ranger told us that camping at Brittanico was no longer permitted, so we modified our plan and hiked past Campamento Italiano to Refugio Los Cuernos, a distance of 7.6 miles. That trail is rated as "easy" — the only one so rated in the park — and it mostly was. That meant that there was part of the "O" which we did not do — regrettable, but mostly unavoidable. To have camped at Italiano, then dayhiked up the Valley Frances past Brittanico then next day — and back — would have cost us a day we did not think we had. So, we missed 6 miles or so of the full circuit.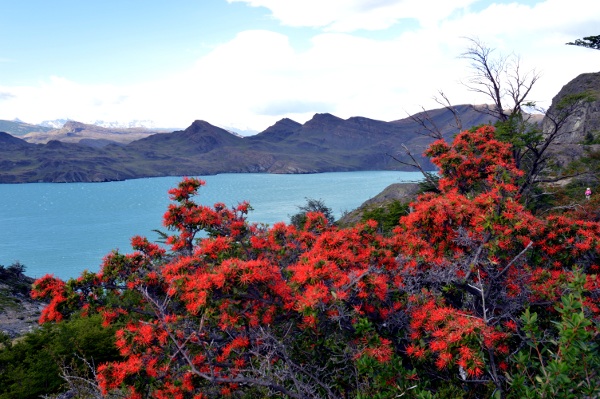 Photo courtesy of Tristan MacDonald

Along the way, we saw the first of many of the plants above. I asked one local guide for the name, and he said they just called them "Firebush". I am sure there is a more formal name. They were all over the park, sometimes in large clusters, and sometimes lent bright colors to an otherwise monochromatic scene. We stopped briefly at Camp Italiano, which was not particularly a nice place to camp, and continued on.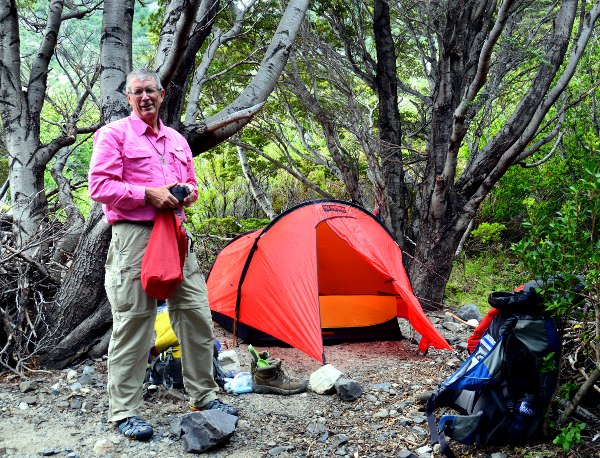 Photo courtesy of Tristan MacDonald


We found a sheltered place in the trees at Refugio Los Cuernos, as shown in the picture above.

That shelter matters. While, as you will see, the terrain in TDP is sometimes rocky and stark, the primary feature of the environment is the wind, which blows off the Pacific Ocean in what sailors call "the furious fifties", because it lies at 51 degrees south latitude, over the park right back out into the south Atlantic. Winds of 60+ miles per hour are common, and higher winds up to 100 mph are not at all unusual.

And unlike some places, the wind does not always stop at night. During our stay at Los Cuernos, it blew all night. I took a reading on my Kestrel pocket weather station at dawn, and it was blowing 32 mph at our tent despite the sheltering trees! Fortunately, my new Hilleberg Anjan 2 tent stands up to winds very well, so while it was noisy, we still managed to sleep. Our faith in the tent, tested repeatedly by the high winds of TDP, came to be so great that we slept very well.



We had dinner at the Refugio. We carried breakfast, lunch, and dinner for 4 days, and planned on eating in refugios for meals on the remaining 5 or 6 days. If you want to eat in the refugio, you need to pay for meals as soon as you arrive, as the number of people they can serve is limited. The refugios on Lago Nordenskjold and Lago Grey are supplied by boat. The refugio at Refugio Dickson is supplied by over a 4WD road outside the park, and then by boat across Lago Dickson. Other refugios, like the one at Seron, are supplied by horseback, so food may be limited to what's on hand.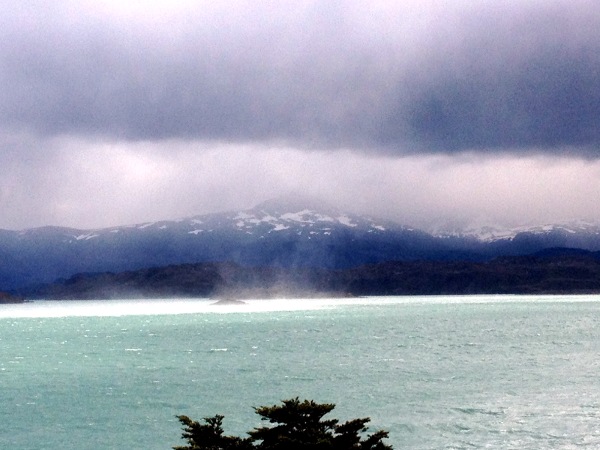 Day Two: Los Cuernos to Chileno
The next morning, we arose, and cooked our own breakfast in the cooking space provided by the refugio. It also featured a kiosk or store which sold limited supplies of cookies and similar items, though some of the kiosks also sold pre-packaged dehydrated or pasta meals.
Packing up the tents, we set off. The wind was again the main feature of the weather. In the picture of Lago Nordenskjold, the spray in the center of the picture is water picked up from the surface of the lake, and swirled by the wind. It was fascinating to watch!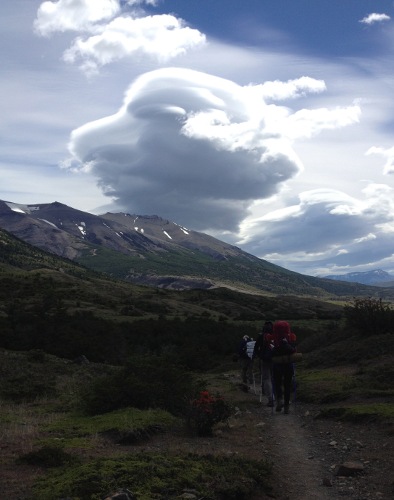 We were bound that day for Campamento Chileno, a hike of about 7.5 miles, as wells as an altitude gain of 2100 feet. Besides the stark landscape, the clouds provided a lot of the visual entertainment, as they were constantly changing, as well as altering the light on the land. The main trail leads to the big hotel complex at Torres, but there is a shortcut around the west side of Laguna Inge, which shortens the hike, albeit with a penalty in the form of steep climbs.

We were all carrying loads of 30 to 35 pounds, and the vertical gains on this stretch apparently caused Sally to have a knee problem with what was diagnosed by our experienced crew as Iliotibial Band Syndrome. I would have the same problem to a lesser extent on the following day, and to a major extent the day we summited John Gardner Pass. It makes walking downhill painful. As a result, she was relieved of her pack on the last downhill portion of the hike into Chileno, and would rest the next day in camp while the rest of us hiked up to visit the rock formation which gives the park its name.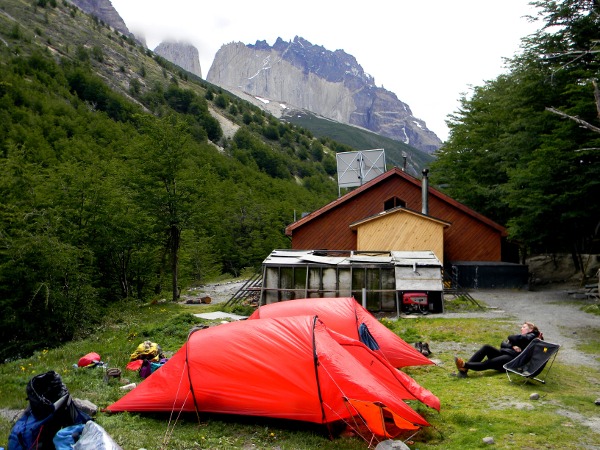 The camp at Chileno, above, with our two Hilleberg tents behind the refugio building, and immediately south of the structure shown, which happens to be an above-ground sewage pond. Fortunately, the wind blew from the west, and relieved us of the worst of the odors...

We had dinner in the refugio.

Day Three: Hike to Las Torres del Paine and Return

After breakfast the next day, Sally remained in camp to rest, fortified by ibuprofen, while the rest of the party headed uphill to the Torres del Paine.

L-R: JJ, Tristan, and John
We reached the Towers after about a 2 & 1/2 hour hike, much of it stiffly uphill, over rough terrain. We had lunch at the towers, and then headed down. Shortly after leaving the top, a woman commented as Tristan MacDonald walked by, "I wouldn't have thought that a guy that old could get up here!" Little did she know that Tristan, despite being 77 years old, with three hip replacements — one of them twice — and a knee replacement, can kick her ass — and mine — on any mountain.
On the return to the camp, my knee began bothering me in the same way Sally's did. I took some ibuprofen that evening, and more the following morning, as we broke camp, and prepared to hike to Campamento Seron through Torres.
Day Four: Chileno to Seron
After breakfast, we packed up, and begin walking down to the hotel and refugio complex at Torres. That complex is extensive, and reachable by road, including a major hotel, a refugio, riding stables, and a small store. There is a shuttle bus which runs between the park entrance and the complex, and many people start and end their hikes there. The store, or kiosk, offered us bread, cheese, cooked hot dogs on excellent buns, and, best of all, cold beer. We stopped there for lunch.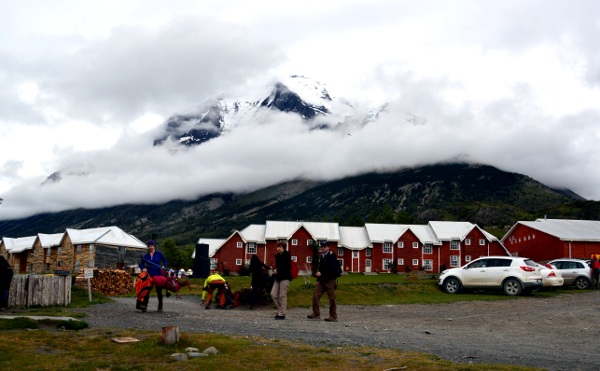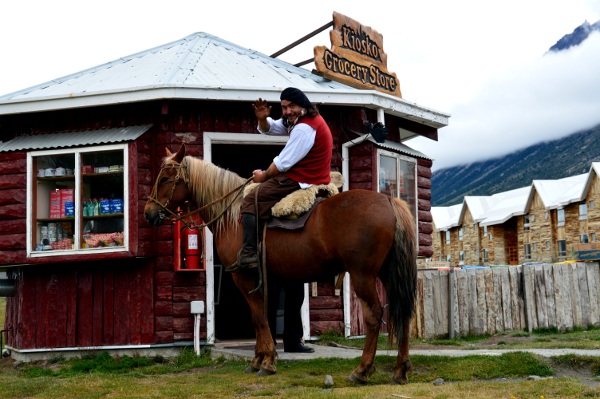 Kiosk and one of the wranglers who supplied the remote refugios with horse trains
Photo courtesy of Tristan MacDonald
After our lunch, we continued on. Here we had the only navigation difficulty of the entire trip, as the way to the trail to Seron was poorly marked because of some recent road construction, and we weren't sure that we were headed the right way, until a couple of English women coming down the trail from Seron on a day hike confirmed that we were indeed going in the correct direction.
The trail from there to Seron offered little difficulty, and we finished the 12 miles from Chileno in time to find out that we could indeed have dinner and breakfast in the refugio, which we weren't at all sure about.
Campamento Seron
Besides offering us an excellent dinner and breakfast, and camping, for about $45 U.S. apiece, the camp also offered us a rare treat. The bird below, known as Caranchas, is one of two which had been trained by the camp manager to come when he whistled, which he rewarded with a bit of cheese. They are handsome birds.

At dinner in the small kitchen of the building, we met a family from England, shown in the picture below. Sitting behind JJ is Lucas Rencoret, a Chilean guide for the family. Continuing clockwise around the table are Mike, the father, Cathy, Doris, Bernie, then of our group, Sally, John, and Tristan. The family was doing the big "O" circuit as we were, but supported by porters in addition to the guide, so they were hiking with light packs. Cathy, in fact, arrived on horseback with one of the supply wranglers who supply the camp. The horse went back with the wrangler, and she walked with the rest of her family the next day.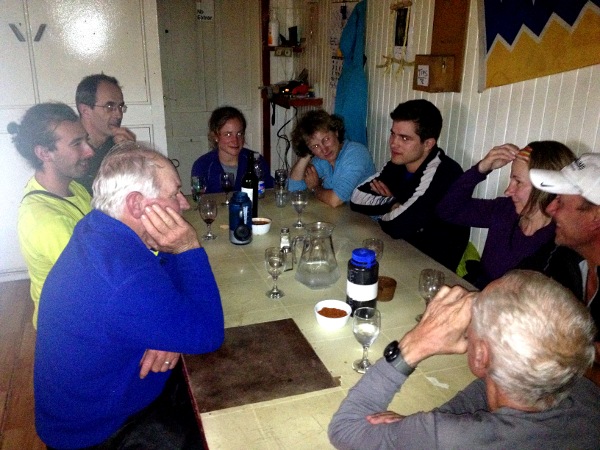 There were a lot of people on the trail and at Los Cuernos and Chileno, the most popular part of the circuit known as the "W", which is due in part to easy accessibility of that section, and the fact that one can reserve beds in the refugios as well as eat there, which relieves one of having to carry full camping gear and food. I am sure that is much worse during the high season for the park, which starts in January. There were many fewer in the more remote sections of the park, which require carrying all your gear and sleeping in tents.
The smaller number of people in the back sections of the park allowed us to meet and chat with like-minded hikers, and we especially enjoyed meeting with this family. We continued on with them to Dickson the next day, and then to John Gardner Pass.
Day Five: Seron to Refugio Dickson
After an excellent breakfast, we moved up the trail toward Dickson, a hike of about 11 & 1/3 miles. The morning started with a very steep 500-foot climb up to a pass, which left all of us gasping for breath. At the top, besides gorgeous views, we found this marvelous bee. They were common in the park, moved pretty slowly, and I never saw one except alone. They are huge, about two inches long.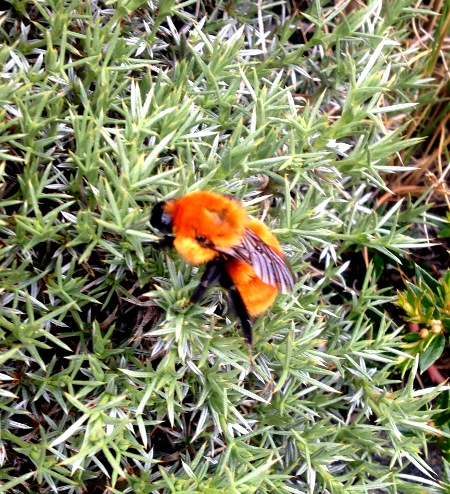 We had now turned the corner at the top of the "O", and the trail onward from the pass offered splended views of Lago Paine and the surrounding mountains.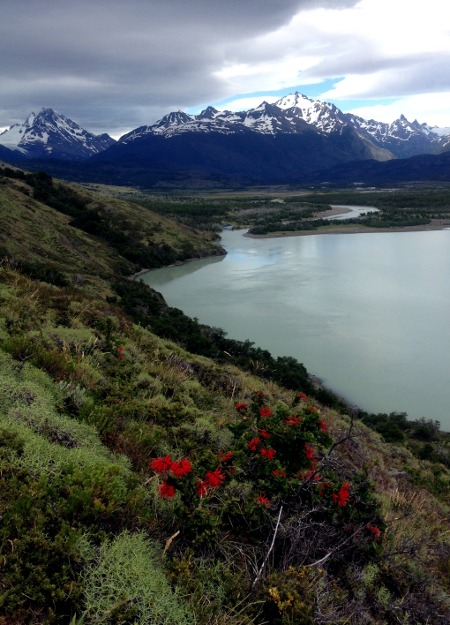 After another steep climb, we were rewarded with the wonderful view above, with the buildings of Refugio Dickson at the bottom of the picture, and Lago Dickson behind.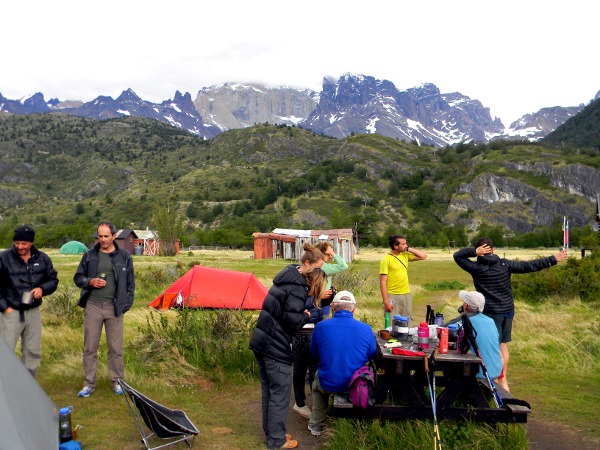 After pitching our tents, we bought cold beer at the camp kiosk, and enjoyed Happy Hour with our new English friends — actually, Doris is originally from Austria — and discussed the events of the day. That evening, Lucas arranged for a nice party in the refugio dining room for Bernie, whose birthday it was. It was a splendid evening of friendship, attended by several of the people in the camp and the porters carrying the family's gear. I think everyone slept well that night.
Day Six: Dickson to Campamento Los Perros
"Los Perros" is Spanish for The Dogs, supposedly to commemorate two dogs lost there. The trail, marked as 11 kilometers on the map, was recorded by my GPS as 12.3 km, or about 7 & 2/3 miles, with an ascent of about 1000 feet, several crossings of the Rio de Los Perros, and splendid views.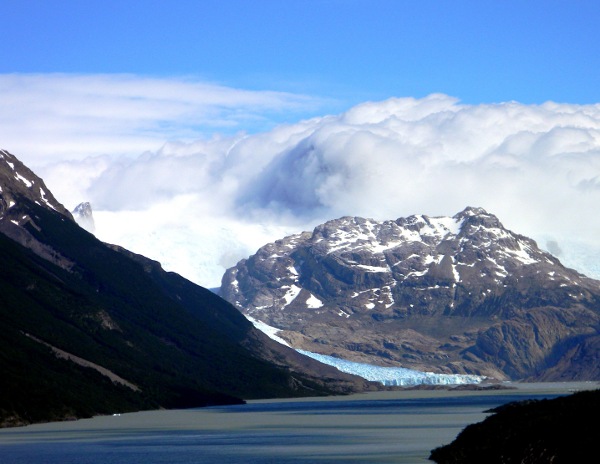 During the climb up, we got a better view of the glacier across Lago Dickson from the camp.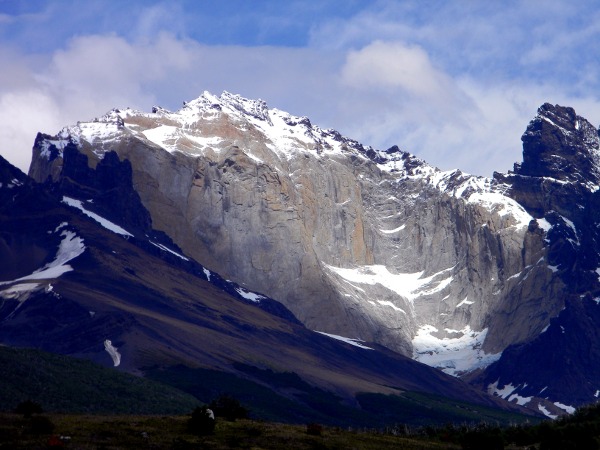 I was fascinated by this view of the backside of the Torres del Paine, and took several pictures of it.
The camp at Los Perros was small. Although there was a kiosk, it was supplied mostly with cookies and similar items. My inquiry about beer was met with, "Mañana." Alas, we had to depend on our carried liquor supply for Happy Hour. Although there was a small shelter for cooking, it was very dirty, so we just cooked our dinner by our tents, and relaxed, resting for the next days climb to John Gardner Pass, the highest point of the trip.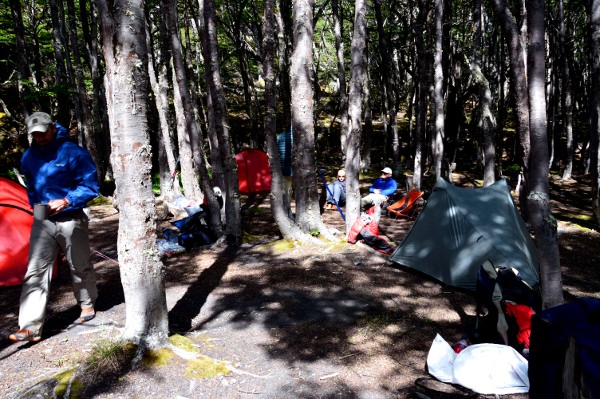 Photo courtesy of Tristan MacDonald
Day Seven: Over John Gardner Pass to Campamento Paso
This day would offer us the biggest challenge of the circuit. The climb up to the pass is about 2300 feet though mud and snow. The descent from the pass of another 2300 feet to Camp Paso is the steepest of the circuit in less than 2 miles. It would bring to me a return of severe knee pain. But first, the climb...
We started off climbing through a forested area with mud and snow. During that climb, I bent one of my trekking poles, when it went down into the mud about 18 inches, following which I fell forward, causing about a 30 degree bend in the middle section of the pole. It was still usable, though.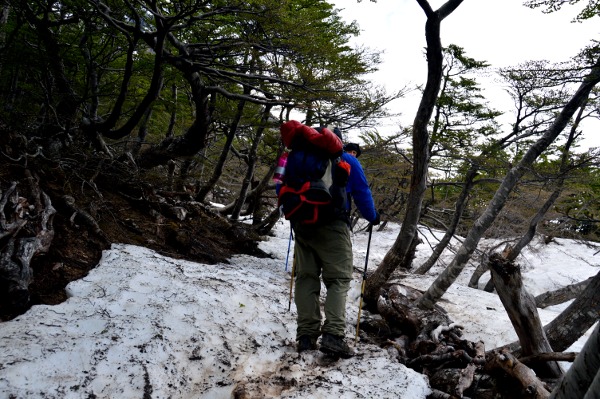 We saw this climber above us, on the route we would have to take.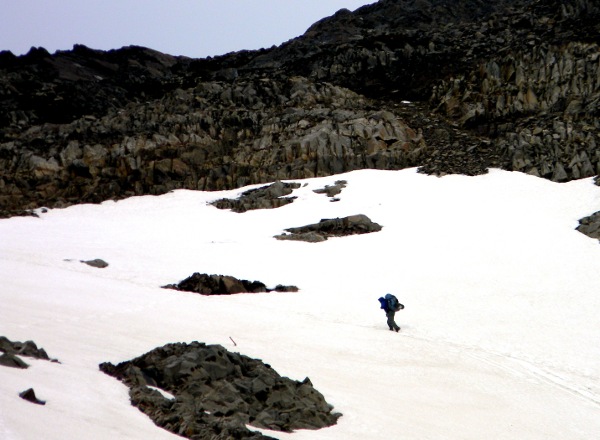 And here we are...
Photo courtesy of Tristan MacDonald
Although the snow was deep, the footing was good. I had brought gaiters for this climb, but didn't find it necessary to wear them, as the snow was packed pretty well, and I never came close to getting any in my boots.
As we got closer to the pass, our English friends caught up with us, and we got to the top together. The view was stunning. The wind at the pass was blowing about 40 miles per hour, and with an air temperature of 41 degress, the wind chill was below freezing, so we weren't inclined to linger.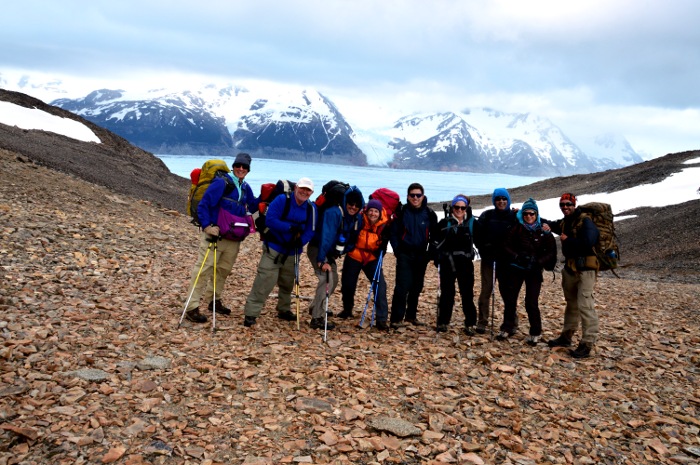 Photo courtesy of Tristan MacDonald
All of us stood around taking pictures as long as we could, then began the descent. The glacier is so visually stunning that we stopped often on the way down to take more pictures. Alas, I can't show all of them, but the one below is probably the best of mine.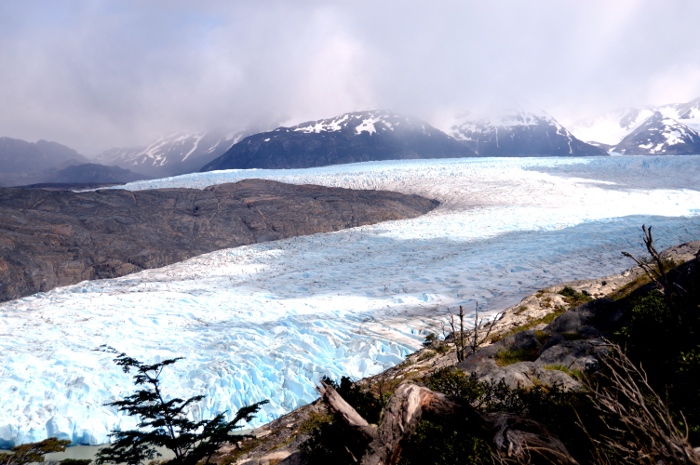 My iliotibial band problem resurfaced on the descent. I had taken some ibuprofen at breakfast, and took some more on the way down. I was essentially hobbling down on one leg, with the sore one straight. That caused me to use only my left leg for going down, and it got pretty tired, causing me to proceed more slowly than the rest of the group, who kindly waited up for me. One time I slipped and fell on the steep slope, causing Sally to run back toward me. I wasn't hurt, just resting. "Say something!," she called. "Ow!", I replied, then assured her I was fine.
The trail descends 700 meters in 3 kilometers, which means the average grade is about 23 percent — and some of it was pretty much straight down. Eventually, we got down to Campamento Paso, and had lunch on a stunning overlook above the glacier.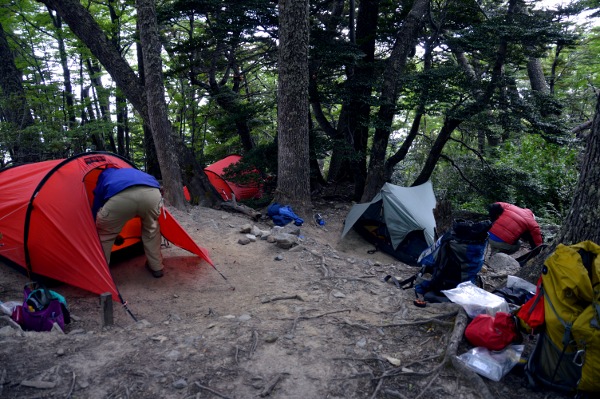 The camp at Paso is quite primitive. No refugio, no store, no beer... There was a flush toilet, although it was just a building with a cement cone with a hole at the bottom. You straddled the hole in the cement with your feet, and did your business. Standing well back when flushing is advisable, as the flush is...voluminous. But we were so glad to be down off the pass that we didn't mind. We cooked and ate our dinner, and went to bed. The sun didn't set at that latitude until about 10:00 PM, and it was light for about another 45 minutes, and we had gotten used to going to sleep with it still light.
Day Eight: Campamento Paso to Refugio Grey
The hike this day was to be about 4 & 2/3 miles, mostly downhill. The most interesting part of the descent was crossing a couple of very deep ravines, which required in two cases using ladders, and one suspension bridge. Although my knee continued to bother me, it wasn't a problem on the ladders, and with less steep downhill sections, I was OK. Here's JJ on one of the ladders. They were pretty well secured, with bolts into the rock, but sometimes the ropes used to secure them left us with some doubts — but we had no problems.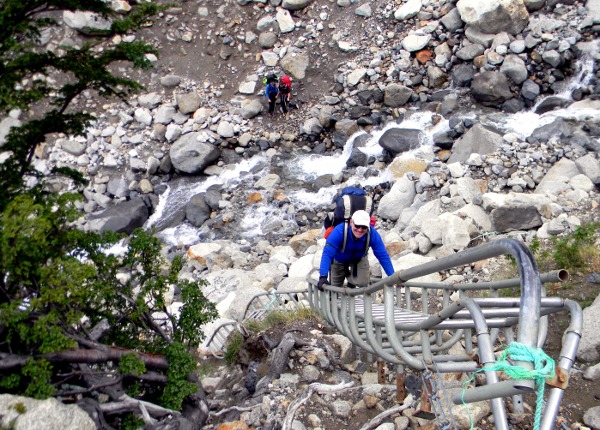 The rest of the descent to Grey was uneventful. We arrived at the splendid refugio there, and set up our tents. We went into the refugio, and had wonderful hamburgers prepared by the dining room staff - after a beer. We arranged for dinner that night, and it was excellent. The shot of the day was this, which Tristan and I took from the deck of the refugio. What a view! We called it the Ice Palace - and the view of it changed constantly, as clouds moved in and out.
There is a boat which runs from the hotel complex at the south end of Lago Grey, docks at Refugio Grey, and takes passengers for a close-up view of the glacier where it terminates at the lake, then takes them to the hotel complex. John, Sally, and I had contemplated taking that boat for the view, which would also mean that we could take a shuttle from the hotel complex to the bus stop at the Administration building, and wouldn't walk down to Paine Grande to catch the catamaran. However, when I went to book tickets for that, I was told that because of the high wind forecast, they wouldn't know if the boat would actually run until too late in the morning for us to walk out to Pehoe. So, we would have to all walk.
Day Nine: Refugio Grey to Paine Grande, and Out
After breakfast, Tristan and I set off early, so I wouldn't slow the others up. However, the trail was easy enough that I had no problem with my knee, and the others never caught up before we completed the 7 mile hike to Paine Grande. The only complication was the constant rain, sleet, snow — and the wind, which gusted over 40 mph. Fortunately the wind was at our back, so Tristan and I just had to several times stop and brace ourselves on our hiking poles, to keep from being blown on our faces. We passed many people hiking from Paine Grande up to Grey, and I felt sorry for several who were clearly neither properly equipped with clothing for the weather nor equipped to fight the wind. Tristan speculated that some might well have had to stop and return. The conditions were brutal.
We got to Pehoe in good time, and after a short delay, were able to sit in the dining room and have coffee, while we waited for the catamaran.
After the 30-minute cat ride, we found that the bus we had purchased tickets to ride out on was full. After some anxiety about that, it turned out not to be a problem. We got on the bus of another line. There is apparently a system set up to deal with the accounting of tickets for one line being used on another, and we all got out with no other problem, but we were glad we didn't have to wait six hours at the bus stop for the next — and last — bus of the day.
The End of the Adventure
That day, we had dinner at the same restaurant as the day of our arrival. The next morning, we went to the bus station, and got tickets for the ride down to Punta Arenas for our flight out. We had an extra day there, which we spent shopping, drinking coffee, and exploring the town. The history of the region is fascinating — Punta Arenas started as a penal colony, but quickly became the center of a region with wealth from cattle and sheep ranching, whaling, fishing, and other enterprises.
Sally left for the airport early the next day to catch a flight, and we took a shuttle out in plenty of time for our flight, which was predictably late — but not too late to catch our connection to Miami, which was also late. We got through outbound Immigration checks more quickly than on our trip of last year. And for the leg to Miami, we had a LAN Air 767 in excellent condition, and with the usual friendly, efficient, and well-groomed LAN Air crew. LAN is the airline of my choice for trips to South America.
They fed us shortly after our 1:00 AM departure — it was more than an hour late, but it was late in order to collect passengers arriving from other late flights — and shortly after that, I had my headphones on and was asleep. Clearance through Customs and Immigration in Miami was brief, and shortly thereafter, John, JJ, Tristan and I were headed north for the 5 hour trip to St. Augustine. Sally had a long delay in Santiago before catching her flight out, and she got home hours after the rest of us were back in St. Augustine.
So, in the 9 hiking days, we hiked all but about 6 miles of the routes on the "O", about 73 miles, carrying heavy packs, making new friends, and having a wonderful adventure. The only downside to this trip is the time required to get to the area - about 24 hours total from Miami to Puerto Natales, including two airline flights, a 3-hour bus ride, and waits between transport.
You can see this area, too — but as I have said about many of our outdoor adventures, you have to get off your butt, and start walking.
What a trip! I don't know how we will top this. But, the eight of us who trekked more than 200 miles of the Camino de Santiago earlier this year will head to France next spring to hike some more of it.
The adventures will continue!
And, finally, a word of thanks to my friend and inspiration Tristan MacDonald. He has organized two trips to South America I've been on, two trips to Europe to walk the Camino de Santiago, one of which is next year, as well as innumerable summer hikes in Colorado where we spend the summer. I hope, in 10 years, to be as active as he is now, a lofty goal. He has forbidden me to call him "Sir", which I was taught to do in my youth to those I considered my betters, and while I mostly try to conform to his wishes, this once I shall not. Salud, sir! And thanks!
---
Equipment note:
I carried the DeLorme inReach satellite terminal shown in the picture below. It is capable of sending and receiving text messages and email anywhere in the world. I would not travel without it — I carry it hiking in the mountains of Colorado during the summer, and anywhere else I do not have cell service. It includes an "SOS" button, which puts you in contact with a rescue center. On this hike, it let me send messages to family, friends, and, yes, Facebook, to let them know where we were. See DeLorme InReach for more information.
---
Text &copy 2013 by
Linden B. (Lindy) Sisk
Photographs &copy Linden Sisk and Tristan MacDonald
All Rights Reserved