Five Friends Hike into Chicago Basin
by
Linden B. (Lindy) Sisk
Text by Lindy Sisk
Photographs by Lindy Sisk, Cindy Crochet, and Tristan MacDonald
August, 2014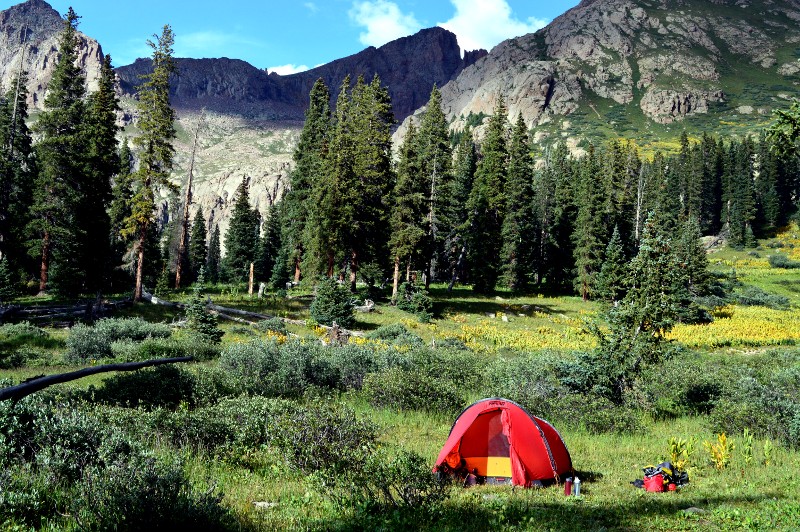 Photo Courtesy of Tristan MacDonald
---
Author's Note: The reader may click on most of the pictures on this page to see a larger version. Use your browser "back" button to return.
Our friend Tristan MacDonald has led Cindy, me, and other friends, on hikes in many interesting places, including Argentina, Chile, Spain, and France, as well as many, many, hikes in Colorado where the MacDonalds and we have been spending the summers for many years, mostly in Creede, Colorado. (Some of those hikes are documented on my travel page.)

In the summer of 2011, Tristan, his granchildren Brittany and Zach Fraser, and I spent Four Days on the Continental Divide Trail
.
In the summer of 2013, Tristan, his grandchildren Brittany and Zach Fraser, and I, hiked in to a camp near the base of two Colorado "14'ers", i.e., mountains taller than 14,000 feet, Sunshine and Red Cloud, and summited them on the morning of the next day.
This year, Tristan wanted to lead a hike into Chicago Basin in the Weminuche Wilderness of the San Juan Mountains in Colorado. Chicago Basin is often listed in the top ten scenic hiking destinations in the United States, and is visited annually by a number of hikers estimated at around or exceeding 100,000!
Various people were invited — and some had to decline for reasons of conflicts or injury. The final hiking party consisted of Tristan, Hal Murphree, Zach Fraser, Cindy Crochet, and me.
We assembled in Durango on August 16th. Hal and Tristan have adjacent houses, and Hal kindly put Cindy and I up in the bedroom of his and Verdi's lovely new home, while Zach bunked with the MacDonalds. On Sunday the 17th, we loaded up in Hal's pickup, and proceeded to the trailhead.
Most people who hike into Chicago Basin either hike in from Purgatory Trailhead on US Highway 550, a distance of about 14 miles, or they elect to ride in on the Durango to Silverton Narrow-Gauge Railroad, which stops at Needleton to discharge and pick up hikers twice per day, which cuts the hike down to about 7 & 1/2 miles.
Tristan and friends had hiked the Vallecito Creek drainage north from Vallecito Reservoir, and found it so lovely that he proposed to hike up Vallecito Creek to the intersection with Johnson Creek, camp overnight, and hike into Chicago Basin over Columbine Pass the following day. After camping overnight in Chicago Basin, we would either hike out to the railhead, or hike out to the Animas River drainage, camp an additional night, and exit via the Purgatory Trailhead.
Here's the group assembled at the Weminuche Boundary Marker on Vallecito Creek.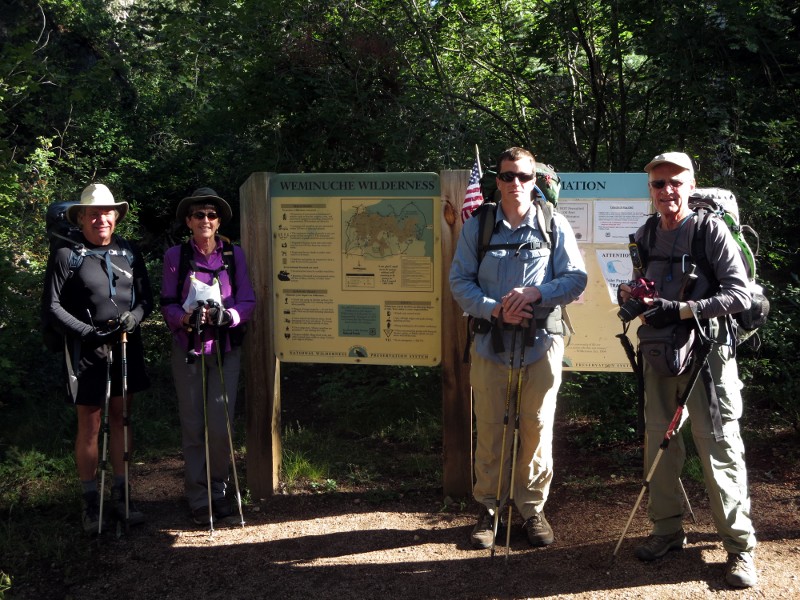 L-R: Hal Murphree, Cindy Crochet, Zach Fraser, Tristan MacDonald

The hike up the Vallecito Creek drainage was as beautiful as advertised. Thimble berries were abundant along the trail, and we made slower progress than we might have to snack on the berries, which were so ripe that our fingers sometimes appeared to be dipped in blood. We stopped for lunch at a bridge which crossed the creek. We made camp after 9.6 miles, with a total elevation change of 4646 feet. It seemed easier than that, because we weren't in a hurry, and the grade changes were pretty gradual. There was one stream crossing we had to wade, but we weren't more than knee deep, and we changed to water shoes to wade in.

We made camp in a nice spot near the intersection of Vallecito Creek and Johnson Creek, and pitched in to Happy Hour and dinner. We were all carrying collapsing chairs, which made relaxing in the camp much nicer. (Had the ground been damp, our butts would not have been.)

Photo by Cindy Crochet

Lunch at the bridge

Happy Hour! Cheers!
Photo by Cindy Crochet


We enjoyed a beautiful sunset, and slept well after dinner. We arose around 6:00 AM to prepare for the climb up to Columbine Pass. First we had to cross Johnson Creek on some very slippery logs to reach the trail on the other side, but everyone made it without getting their feet wet.

Sunset

Sunrise

Slippery stream crossing
Photo by Cindy Crochet


The trail heads west following Johnson Creek, rising toward Columbine Pass at an average grade of 14 percent! But the lower part of the creek drainage was at least equal in beauty to Vallecito Creek. We passed a couple of parties of hikers who were camped along Johnson Creek, one of which we would see again.
| | |
| --- | --- |
| Photo by Cindy Crochet | |