---
A couple of Saturdays ago, I was up on Snow Mesa. While up there, the terrain to the west of Spring Creek Pass looked interesting. I consulted my hiking guru, Tristan MacDonald, who recommended driving a mile or two up the road from Spring Creek Pass, then parking and hiking up to the top of Jarosa Mesa. So, I did.
I left the park at 6:00 A.M., as the overnight low was in the mid-50's, and there was a lot of moisture in the air, raising the possibility of early thunderstorms. And, in fact, up near the Ox Bow Ranch the road became wet from recent showers.
I stopped the truck at the pass, locked the hubs, and put it in 4WD high to head up the road. The road was fine - I didn't scrape anything. At about a mile-and-a-quarter in, I found a place to turn around, so I parked. As it turned out, I could have easily driven another half mile to a better place to park, but I didn't know that. That place would be a great overnight camping place, too. This is a parking place with a nice view, though.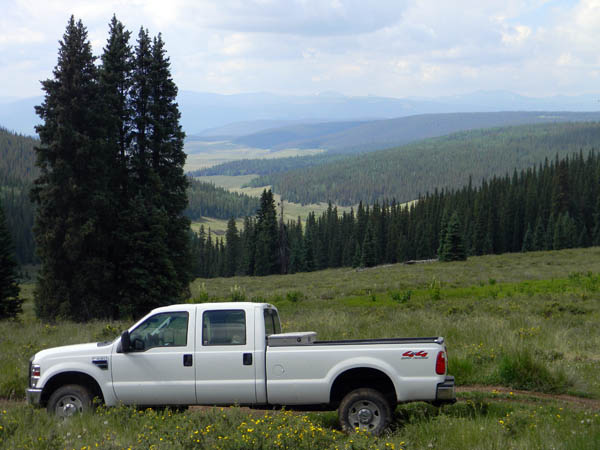 The Colorado and Continental Divide Trails followed the road for a mile or so, then the road went south around the Mesa, and the CT/CDT continued straight up the mesa, clearly marked with cairns. One of the things you don't see in pictures of distant mountains is that at this time of the year, the ground is covered with flowers.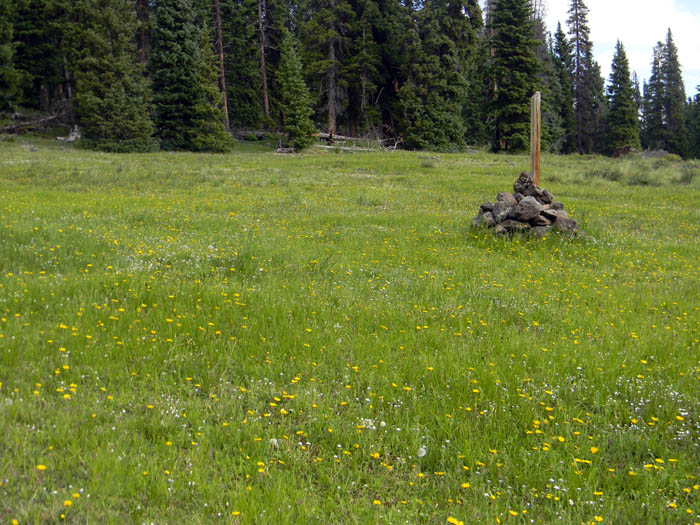 So, I followed the trail up to the top, reaching 12,026 feet at right around 8:00 A.M. The views in all directions were spectacular, like this one looking northwest toward Uncompahgre Peak.

I drank some water while enjoying the view, and letting the SPOT transmitter send my location to Facebook. If you spend much time in places with no cell phone coverage, especially if you do so alone, as I do, you really ought to get one of these, not so you can post your location on Facebook, but so you can get help if you need it. Check out the various models at the SPOT web page. The model I have, paired with a DeLorme PN-60W, allows me to send email and text messages to anyone of my choice. We'll be using that next week on a multi-day hike to notify our ride when to pick us up at the exit trailhead, which saves everyone a lot of guessing and/or time.
So, with clouds overhead, I headed back down toward the truck, walking slowly, admiring the view and taking the pictures below. The picture of the Monk's Hood immediately below I actually took on Thursday during our group hike up Squaw Creek in the Weminuche wilderness. It likes wetter areas. The other flowers I took on the walk up Jarosa Mesa.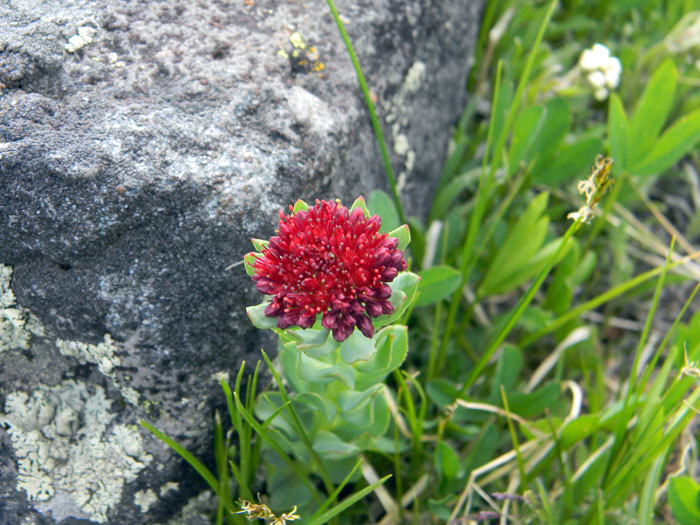 I got back to the truck about 9:30 A.M. - I wasn't walking very fast. I stood drinking water by the truck as two couples on ATVs drove by, headed up the mountain. I didn't envy them - if you drive one of those, you have to put with a lot of noise and dust. I'm a walker, and many of the places I like to go are in wilderness area where mechanized transport of any kind, including bicycles, is prohibited.
So, if you want to see much of the country I hike and take pictures of, you have to get off your ass and on your feet.
So, I walked about 5 miles, with about 2500 feet of elevation gain/loss. Another nice day. I love these mountains, if you haven't already noticed.
---
lindy@arcanamavens.com