Bear Creek Trailhead to Durango
The Monsoon in the Mountains
July 23 to July 26, 2017
by
Linden B. (Lindy) Sisk
Photographs by Lindy Sisk, Brittany Fraser, Zach Fraser, Tristan MacDonald, and Nick Keith
&copy 2017 by Linden B. (Lindy) Sisk, Brittany Fraser, Zach Fraser, Tristan MacDonald, and Nick Keith
All Rights Reserved

---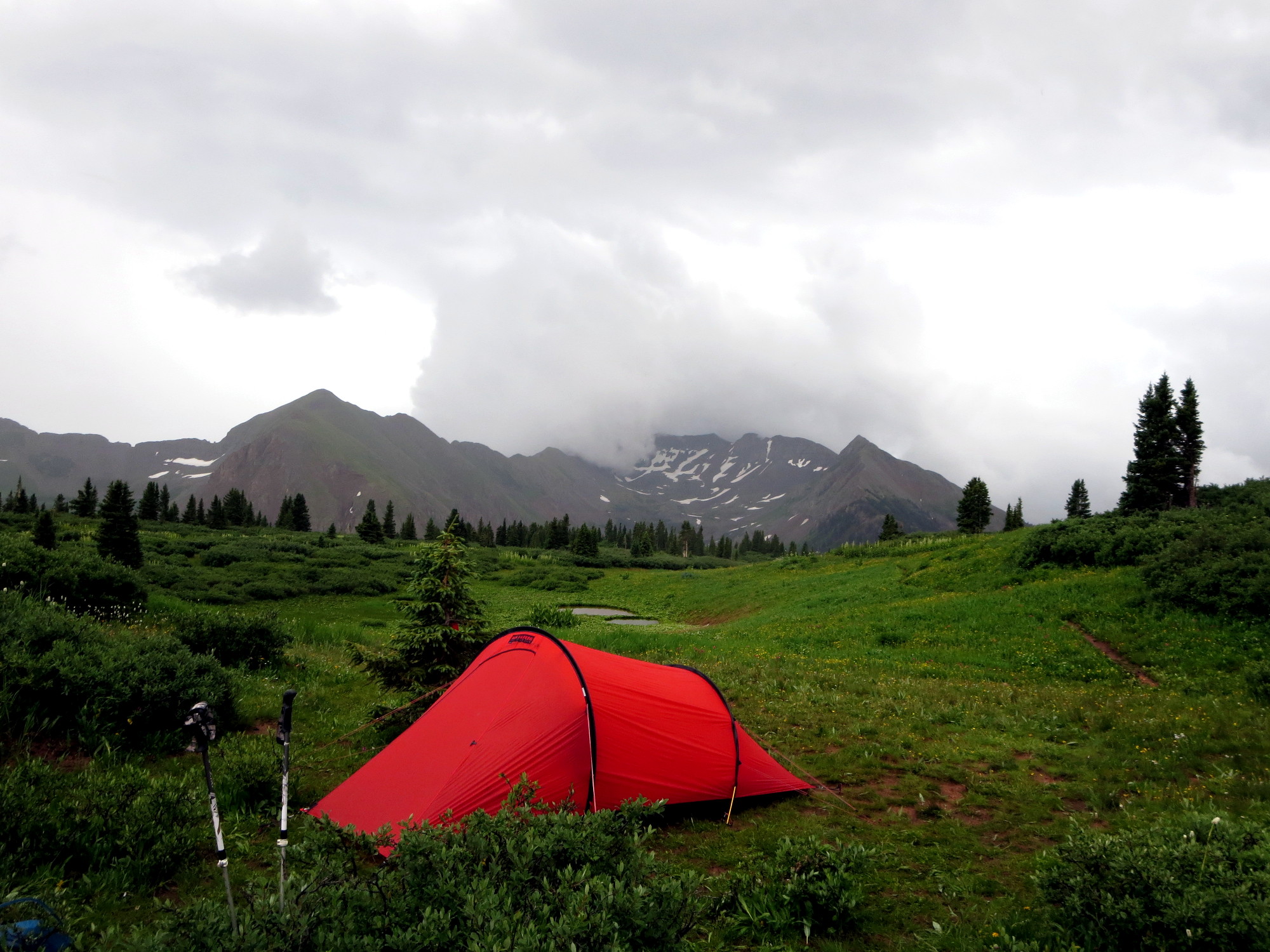 Storm about to roll into our camp at Taylor Lake
Note: All of the pictures below are links: click for a bigger version.
Photographs may be assumed to be the author's unless otherwise credited.
"You are nothing to the mountain, nothing to the ocean. You can sometimes make one mistake, sometimes two. Then you die. In earlier times the possibility of death was a given — now we have this cell-phone culture where you always expect to be saved. Suddenly people are shocked when somebody dies."
— Mark Jenkins, climber and writer
Warning: the routes traversed on this hike should be attempted only by experienced hikers in excellent physical condition, with the proper equipment to survive severe weather at altitudes over 12,000 feet, and with the ability to navigate in the absence of obvious trails. We carried satellite communications equipment which allows us to communicate to the outside world — and we use it.
---
I have hiked and backpacked with Tristan MacDonald in six countries distributed among three continents. Should the reader be interested, many of those trips may be found on the Arcanamavens Travel Link Page. Many years ago, when Brittany and Zach were very young, the MacDonalds begain including them on summer hikes, a tradition that has continued into the present day. I was fortunate enough to be invited on one. In 2011, Tristan MacDonald organized and led a hike of his two grandchildren, Brittany and Zach Fraser, and me on a hike along the Continental Divide. That story is told here.
I was not present for their trip to Creede in 2012 — I was recovering from surgery in Texas.
In 2013, Tristan, Brittany, Zach, and I did an overnight trip into the Grizzly Gulch trailhead, and the next day summited not one but two "14'ers", Sunshine and Redcloud, the following day. There is no web page for that hike, but I need to build one.
In 2014, Tristan lead a group including Zach Fraser, but not Brittany, into Chicago Basin, a story told here.
In 2015, Tristan, Zach, Brittany, and I set out to do the Rock Lake Semi-Loop — which we did, save for Tristan, who got a ride out on the second day in a helicopter. That story is told here.
In 2016, we assembled, with the addition of Nick Keith, to do a hike planned to originate at Vallecito Reservoir, into the Weminuche Wilderness, over Hunchback Pass, down the Elk Creek drainage to Elk Park, and then up Molas Pass. That story is told here.
And now, in 2017, Tristan proposed to assemble the same group, with the addition of Brent Byers, son of family friend Whit Byers, to attempt a hike from the Bear Creek Trailhead on route 145 north of Dolores, Colorado, up the Bear Creek trail and the Sharkstooth trail, to Taylor Lake, where the Sharkstooth Trail intersected the Colorado Trail, which we would hike over Kennebec Pass and then back to Durango.
As not infrequently happens in the mountains, the story didn't go quite the way we had in mind — but there were no helicopter rides.
This year, I arrived in Durango on Saturday, July 15th, eight days before the start of the hike, to deliver two cases of wine to Tristan and Alex, and to begin the acclimatization process for high-altitude hiking — which I did not do early enough in 2016. Sunday, Tristan and I drove up the near the end of CR 204, below Kennebec pass, where we cached about 30 liters of water, in the event that when we descended the pass, there was not sufficient water to get us down the trail, and then we hiked up to the pass and back, a nice little workout, especially for me as I was not used to the altitude yet.
On Monday, I drove over to the upper Rio Grande valley, and set up a base camp at the Bristol Head Forest Service campground about 20 miles up Colorado 149 from Creede. On Tuesday, I hiked up to Snow Mesa from the Continental Divide trailhead on highway 149. It was not the first time I had done that hike, and I chose it for a moderate length of 4.2 miles, with a total elevation change of 2848 feet, followed by a delightful dinner with my friends Jean and Corky Henson at their beautiful home near Creede. On Thursday, I hiked from the trailhead at the 30 Mile Forest Service campground up the Weminuche Creek trail to Weminuche Pass, where I had lunch, and returned. That hike was 10.8 miles round trip, with a total elevation change of 4,818 feet.

Continental Divide and Colorado Trail
Marker on Snow Mesa

Weminuche Pass
The pointed mountain in the left picture is Uncompahgre Peak, which is about 21 miles away from where I took that picture. The summit is at 14,308 feet.
I now judged that I was ready to hike, so I returned to the MacDonald's on Friday, July 22nd. Zach had flown in on Wednesday from Jacksonville, and Brittany and Nick arrived on Thursday, flying in to Albuquerque and driving up in a rented car. Brent Byers and his friend and her daughter had rented a house near Durango, and had arrived on Friday.
We spent Saturday splitting up provisions, and ensuring that everyone had the gear they needed, and reasonable loads. My pack weighed 33 pounds, including food for 3 & 1/2 days, and an initial water load of 1.5 liters. Fortunately, there is so much water in these mountains that we didn't need to carry much as a rule, but sometimes it was in the wrong place — hence the water cache below Kennebec Pass. We carry equipment to sterilize the water with ultraviolet light. Tristan and Nick were carrying Steripens. I own one, but became disenchanted with mine on our hike in Argentina when both of them we were carrying failed, leaving us dependent on iodine tablets. I purchased a Camelbak All Clear after that, and have used it exclusively in the years since with no problems.
We had a delightful dinner Saturday night of spaghetti alla bolognese, expertly prepared by Alexandra (Alex) MacDonald, so we should have adequately accomplished carbohydrate loading for the hike.
The next morning, Alex and neighbor and good friend Hal Murphee drove the party to the trailhead north of Dolores, where we extracted our packs and loaded up.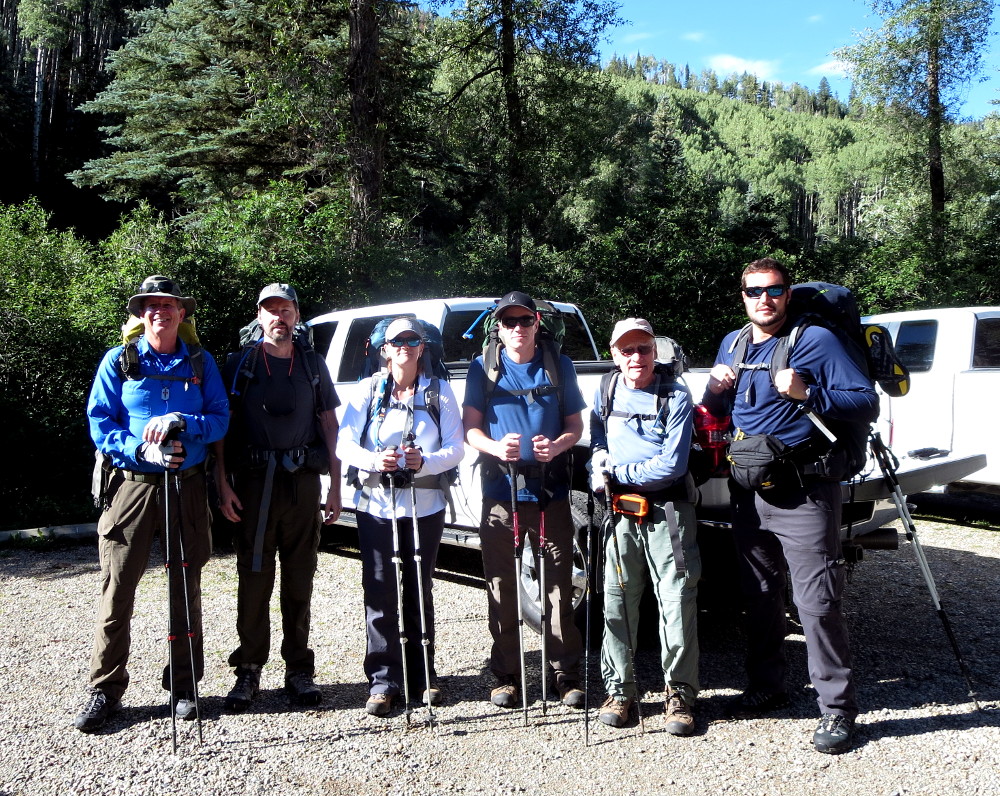 L-R: Lindy Sisk, Spring Branch, TX; Brent Byers, Plano, TX; Brittany Fraser and Zach Fraser, St. Augustine, FL;
Tristan MacDonald, St. Augustine, FL, and Durango, CO; Nick Keith, St. Augustine, FL

Off we went, steeply uphill at first, climbing and sweating. Once over the initial grade and down into the actual Bear Creek valley, the grass and flowers were beautiful. The trail ascended fairly gradually, but few trails go just uphill or downhill, and this wasn't one of them.

So, a little digression here. There is a phenomenum which affects this area, and much of the Four Corners area, at this time of the year, known as the North American Monsoon. Basically, as the earth heats and air rises, moist air from the Pacific and the Gulf of California is pulled up over the mountains. The air cools as it rises, and eventually some of the moisture falls out as rain. For gory details, see this link: The North American Monsoon. This pattern manifests itself as clear mornings, and afternoon rains. So, we had rain periodically in the afternoon and evening of each day, save for the last.

The reader might ask, reasonably, why we do not schedule the hike so as to avoid the monsoon. The late Benoit Mandelbrot, who popularized chaos theory, characterized the atmosphere of the earth as, "a chaotical dynamic system with an extreme dependence on initial conditions," and continued to note that we cannot measure the initial conditions with enough resolution to ensure accurate forecasts — as the observant reader has probably noted. (This is the origin of what is referred to as the Butterfly Effect: if a butterfly flaps his wings in Peking in March, by August hurricane patterns in the Atlantic will be very different.) In addition, vacations must be scheduled and airline reservations have to be made months in advance — so, we endure the rain, having attempted to ensure through our selection of equipment that we can deal with it. And, to tell the truth, these mountains are different in the rain, but, perhaps, more awe inspiring.

Brittany and Lindy sitting out a storm in an aspen grove
Photo by Nick Keith

Day 1 Camp
Photo by Zach Fraser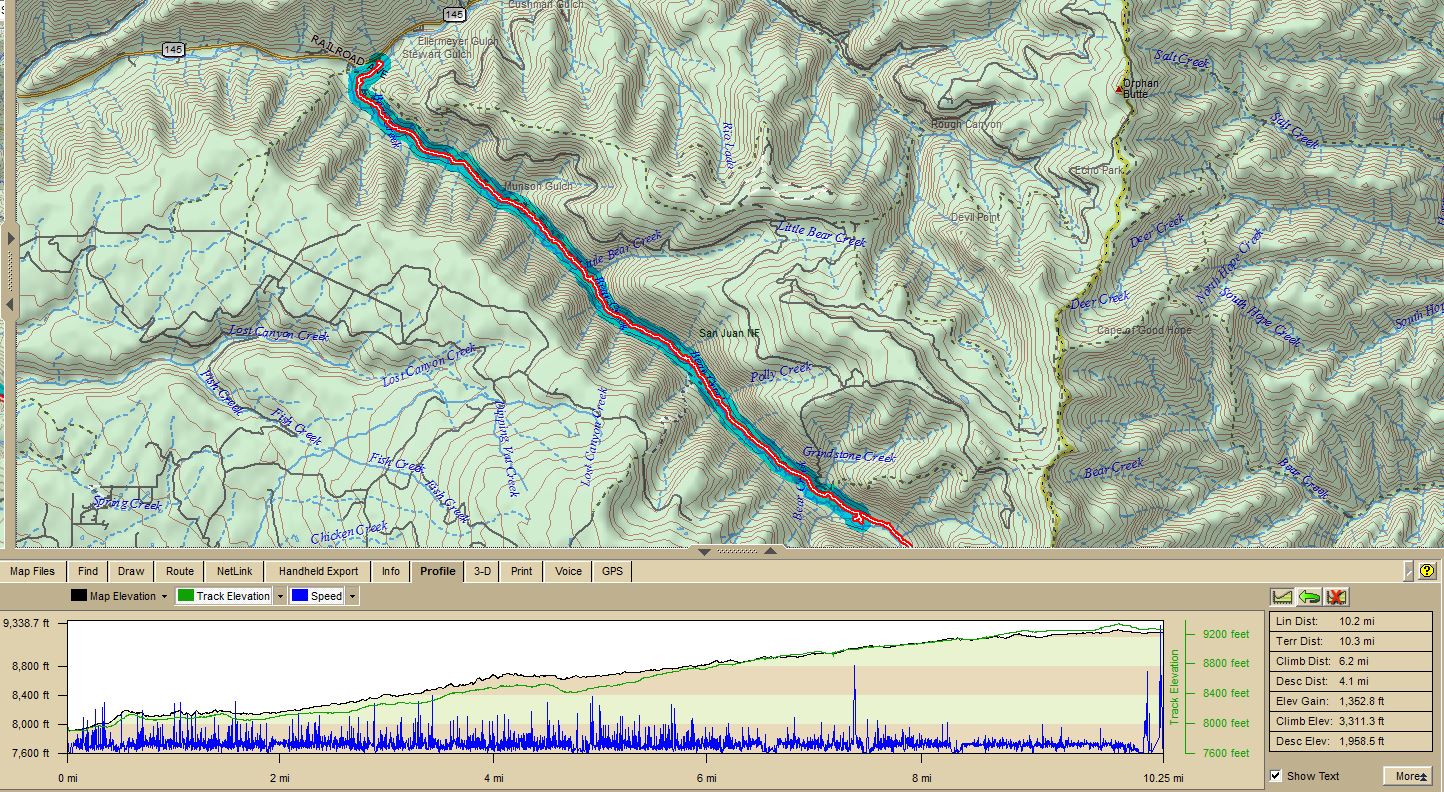 Day 1 Map and Trail Profile. The blue shaded area on the map is what we covered the first day.

We found a place to camp just past the Grindstone Creek trail junction. For the day, we covered 10.3 miles, ascending 3311 feet and descending 1958 feet, for a total elevation change of 5269 feet. If you consider that a normal story in a building is about 10 feet, that's about the equivalent of climbing the stairs ot a 263 story building — and then walking back down, all at an average elevation of around 8500 feet, while carrying a pack! The average grade for the day was 9 percent.

As you can see from the camp picture above, we all carried lightweight camp chairs. The ground in that area is sufficiently wet as to discourage sitting on it. After dinner, when we had gotten into our tents, we had rain overnight much of the night, which let up to allow us to have breakfast, break camp, and get back up on the trail. The overnight low temperature was about 45° F., and we slept warm and dry in our Hilleberg tents.

Day two dawned overcast, where it would remain much of the day.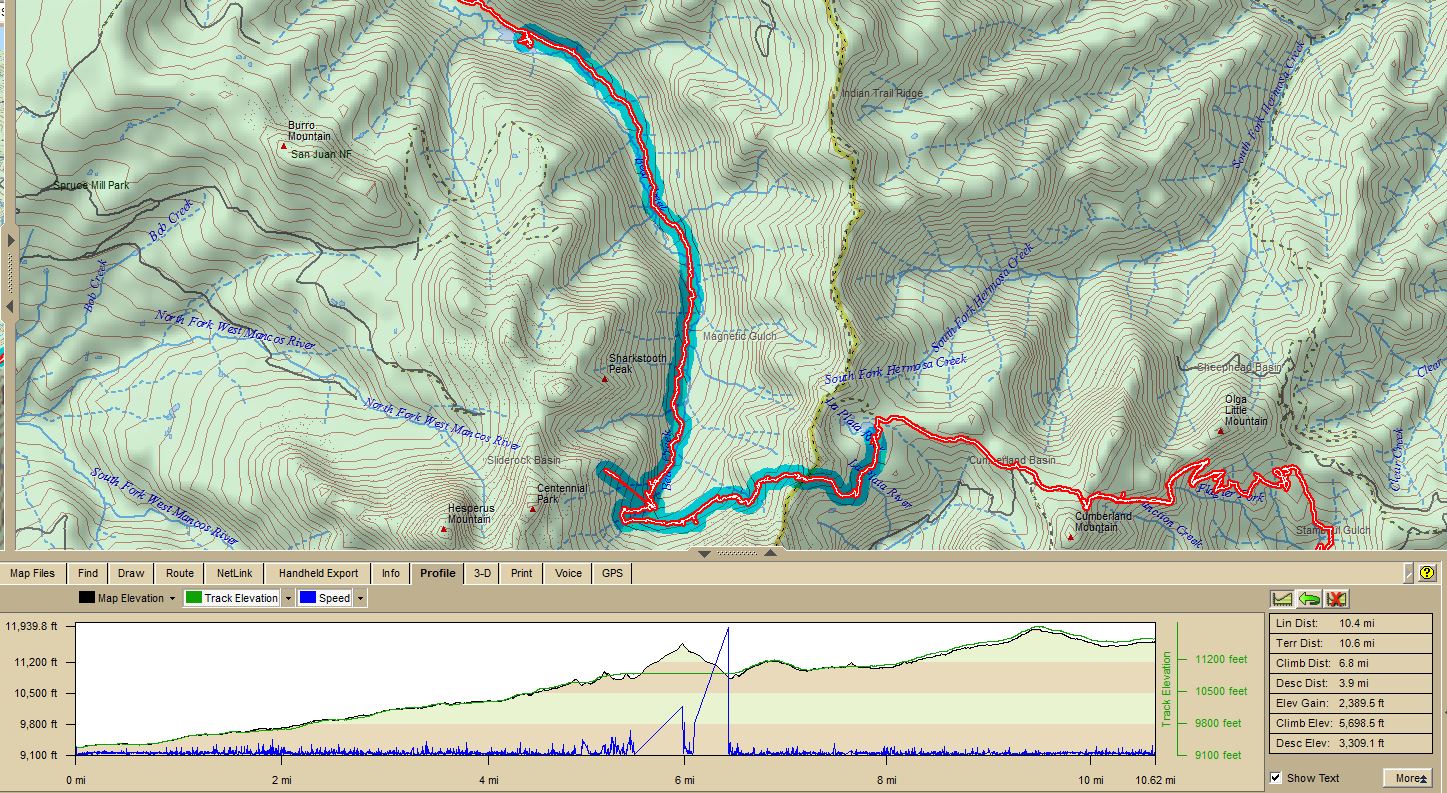 Day 2 Map and Trail Profile. The blue shaded area on the map is what we covered the second day.

The altitude spike at about 6 miles is an anomaly, probably caused by the GPS losing signal briefly. The track climbed steadily, and at times very steeply, toward the trail summit seen at about 9.3 miles on the track profile. The scenery continued to be awe inspiring.
| | |
| --- | --- |
| Photo by Brittany Fraser | Photo by Brittany Fraser |
There were numerous stream crossings. On one of them, some kind souls had built a sturdy and easily crossed bridge. Others had to be picked across carefully from rock to rock, using our hiking poles for balance. Another digression: Tristan encourages — or requires — hikers in his party to use poles. They are obviously a safety measure in stream crossings, but more than that, they make hiking on the sometimes narrow trails more efficient, by allowing the hiker to maintain balance without using leg muscles while placing feet on narrow trails. In addition, while hiking in Argentina, our party of three had to ascend a steep and very muddy slope in a torrential rain, which I am not at all certain would have been possible without the poles — a story told in Los Viejo Mochileros in Patagonia.

Brent and Lindy
Photo by Brittany Fraser

Tristan and Brent
Photo by Brittany Fraser

Zach
Photo by Brittany Fraser

Columbines - the Colorado state flower
Photo by Brittany Fraser
On we climbed. A common phenomenum is to interpret open sky through the trees above the trail as the summit, the highest point. Often, this is an illusion, a disappointing one, referred to as a "false summit". The discovery of this falsity, at least on our hikes, is oft followed by Tristan proclaiming something like this: "Let's go — the top is just a quarter of a mile on!" Often this proclamation is as false as the "summit" itself — but, nevertheless, on we climb.

Photo by Tristan MacDonald

Magnificent view to the north on the climb
Yes, the white stuff is snow
Finally, we reached the summit, not of the mountain itself, but of the trail. While I checked something on my GPS — probably the elevation, which was about 11,940 feet — Zach energetically climbed up to the top.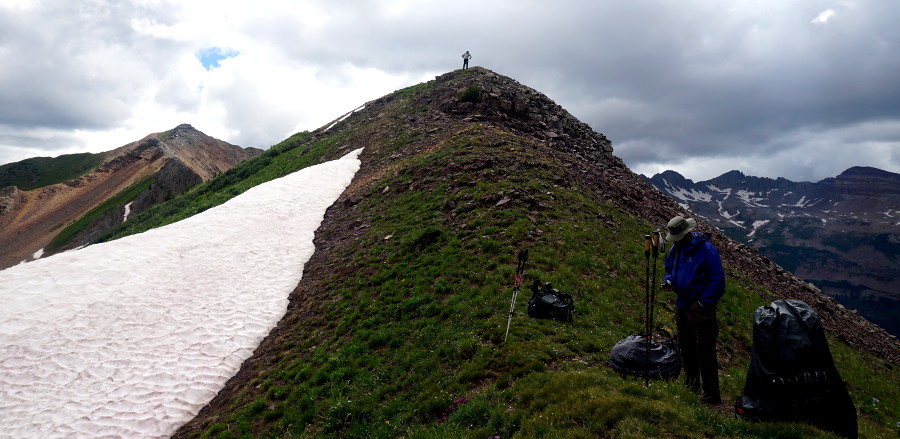 Photo by Nick Keith

Relaxing at the trail summit
Photo by Tristan MacDonald
We began our descent to Taylor Lake, which is the headwaters of the La Plata River, just about 1.3 miles away, and about 300 feet lower. We found the lake, and set up camp. For the day, we had covered 10.4 miles, ascending 5698 feet, descending 3309 feet, for a total elevation change of 9007 feet, an average grade of 16.4 percent! If you want an idea of how tough that is, carrying packs at an average altitude of about 10,000 feet, consider that my excellent Norditrack treadmill cannot be set to a grade of more than 12 percent.
The tents in the picture below belonged to three young women, who emerged and chatted with us as we obtained water from the lake outflow stream.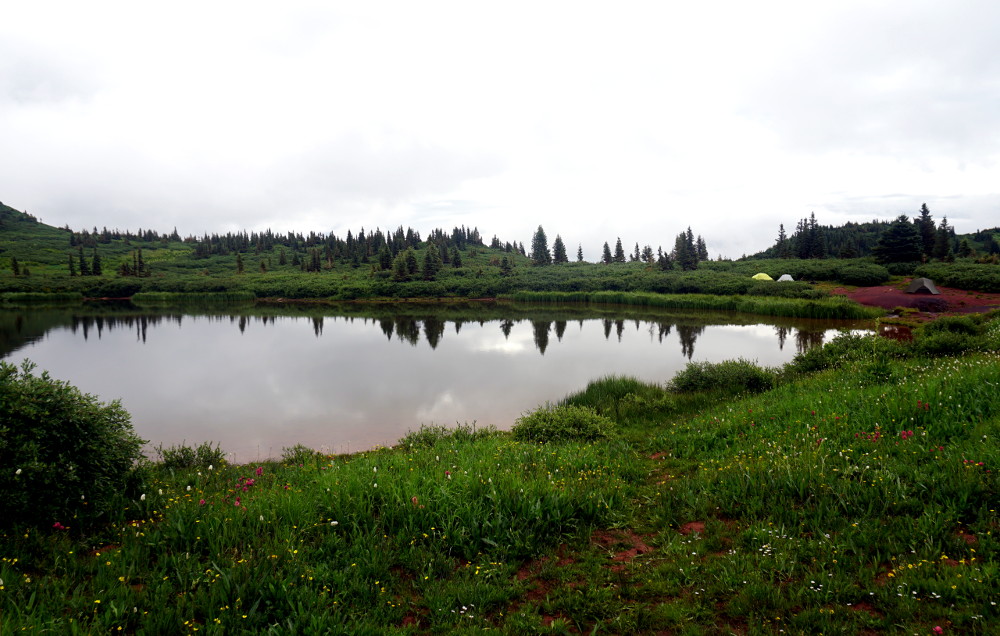 Photo by Nick Keith
We idled around, having our evening libations, and chatting. The ground was so wet that our chair legs tended to sink, requiring careful placement to avoid upset. We began preparing dinner, opening packages and putting water on the stove. The mountains, however, gave us a surprise as the storm shown in the opening picture and in the photo below, came driving in from the south, an unexpected direction, cancelling dinner, and sending us into the shelter of our tents. There we remained for about 10 hours. There were one or perhaps two short breaks in the rain and graupel, but we were dry in our tents.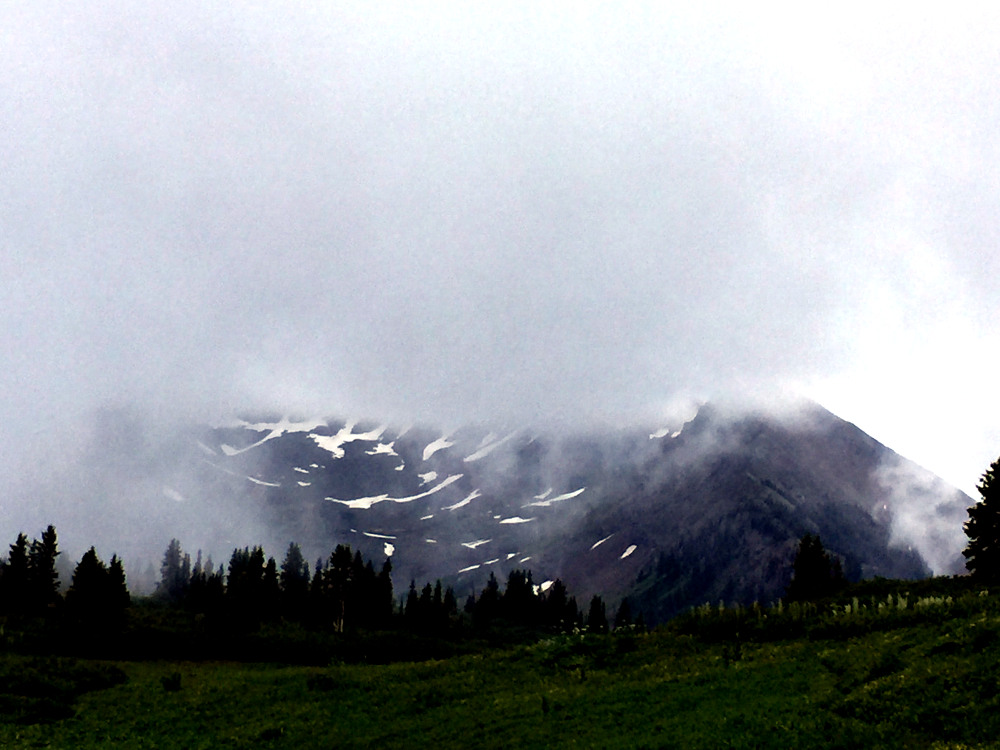 Photo by Nick Keith
The rain finally stopped about the time we needed to be up and moving. The overnight low temperature was about 40° F. Everything was wet, so after breakfast, we just packed up everything as best we could. And came another surprise. It turned out that Brittany had overlooked her sleeping bag when she was stuffing her pack, and she and Nick had been attempting, with little success, to share Nick's. They decided not to endure another night of that. The La Plata Canyon four-wheel-drive road terminates in a trailhead for Kennebec Pass about 1 & 3/4 miles down the Colorado Trail from Taylor Lake, so it was arranged via a very tenuous cell phone connection that Brittany and Nick would walk down that road from the trailhead until they met Alex and Hal, who would drive up the road in a Jeep.
So, off we went down what was now the Colorado Trail. Brittany and Nick split off at the trailhead, and Zach, Brent, Tristan, and I continued up toward Kennebec Pass, which was about the same altitude as Taylor Lake, although, naturally, the trail descended and then ascended again. The weather was overcast, and, when we reached Kennebec Pass, found we were in the clouds.
The descent from the pass was not too arduous, with nicely graded switchbacks for the most part. When we reached CR 204, we took a break and retrieved the water that Tristan and I had cached. We refilled our water bladders and bottles, and, with some regret, poured out the remainder of the water, which had been intended for an overnight stay of 6 people. We carried on down the trail, which was now in Fassbinder Gulch and along Junction Creek.
It was a different type of scenary, as we descended. There was one nice waterfall. We encountered some other hikers, and leapfrogged a party of one man and two women a couple of times.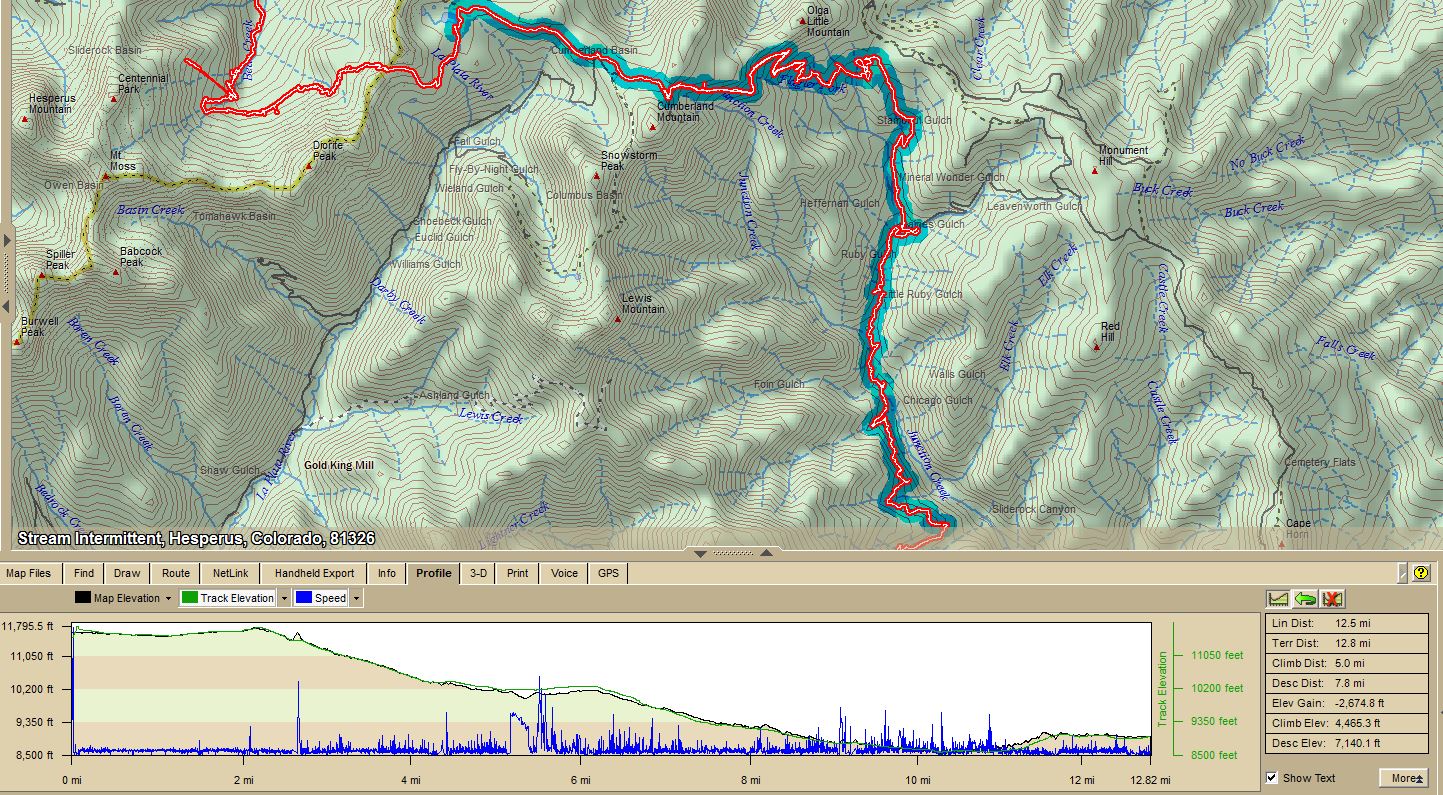 Day 3 Map and Trail Profile. The blue shaded area on the map is what we covered the third day.

We reached a low point along Junction Creek at the bridge shown below. Tristan's perusal of a Colorado Trail hiking book had indicated that there was a climb of about 1,000 feet before we would descend again. A party we encountered on the other side of the bridge confirmed the climb, but said it was, "Not too bad."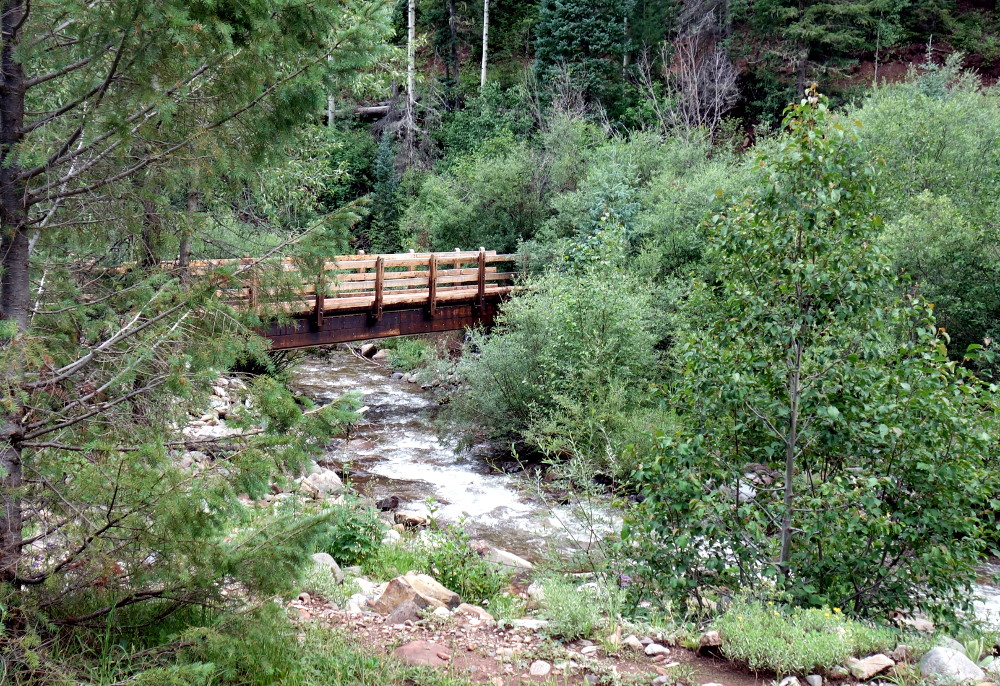 Photo by Tristan MacDonald
So, off we went, stopping once during a brief shower, seeking water and a likely camping spot. Finally, we found a magnificent camping spot. It was about 1/3 of a mile north of Sliderock Canyon, where the book indicated that water might be found. We set up camp, and Brent and Zack took a 6-liter water container to see if there was water there in fact, as perennial streams sometimes dry up in the heat of the summer. They returned with water, and we had a delightful, and for a change, dry, cocktail hour and dinner. As dark approached, we began to hear the now-familiar sound of thunder. We stood outside observing a wonderful but non-threatening lightning storm on the ridge high overhead, until the first drops of rain prompted us into our tents.

Lindy, Brent, and Tristan in Camp 3
Photo by Zach Fraser
For the day, then, 12.8 miles, during which we climbed 4464, descended 7140, for a total elevation change of 11,607 feet at an average grade of 18 percent.
I don't recall ever having done over 11,000 vertical feet in a day before, and if you are inclined to say, "It was mostly downhill," well, all I can say is that you've never walked very far down a steep trail before. When doing so, one is using muscles in a different way than walking uphill, and it's difficult to find a way to train those muscles. Tristan maintains it can be done somewhat by walking backwards on an inclined treadmill. I might have to try that. When I worked in a 10-story building in Houston, I trained by taking the elevator to the top floor, and walking down the stairs to the bottom, and then repeating. I haven't got a handy 10-story building any more...
We arose, packed up, and began the final day.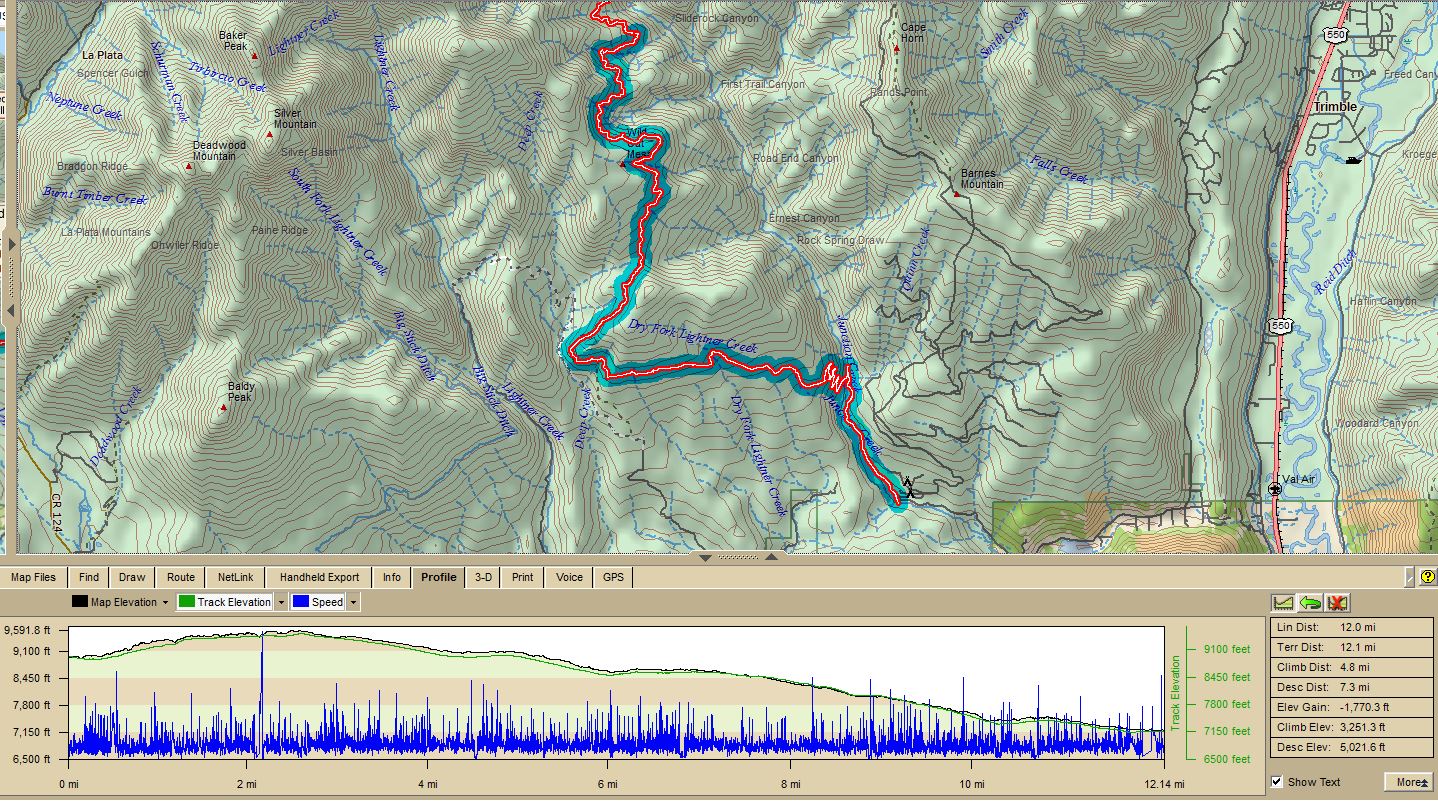 Day 4 Map and Trail Profile. The blue shaded area on the map is what we covered the last day.
We had hoped that our camping spot was the high point of the climb indicated in the book. Well, no. We camped at 8958 feet, and upon leaving had to hike about 2 & 1/2 miles to reach the high point of 9591 feet. Then we descended, still with wonderful views, and in sunshine!

Photo by Tristan MacDonald
After 8.8 miles, at about 8,000 feet, we reached what is known as Gudy's Overlook, where a kind hiker took the picture below. Gudy Gaskill is known as the mother of the Colorado Trail, which runs 567 miles between Durango and Denver. She passed away in 2016 at the age of 89, and if you are interested in reading more about her and the trail, her obituary is here.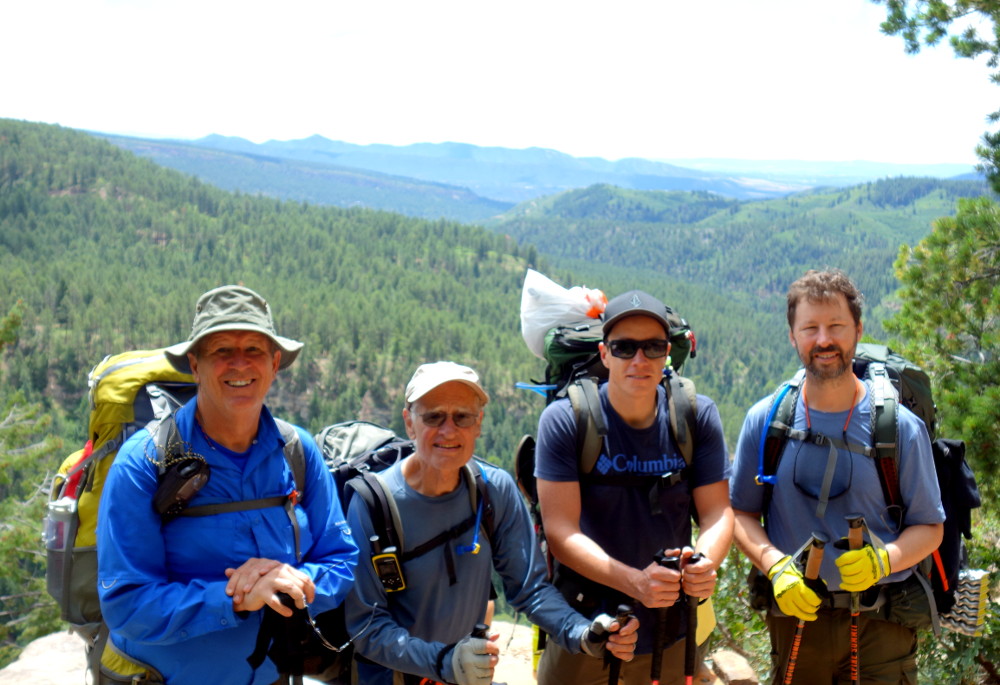 The crew at Gudy's Overlook

Then began our 550-foot descent to Junction Creek on what was the most nicely graded set of switchbacks I have ever had the pleasure to descend. Upon reaching the bridge across the creek, we still had a 1.8 mile walk to the trailhead for pickup — and, you guessed it, it was all uphill...
So, on this last day, we climbed 2453 feet, and descended 3384, in 12 miles at an average grade of 13 percent.
The entire hike, then: 45.2 miles. Ascended: 15,927 feet. Descended: 15971 feet. Total elevation change: 31,718 feet.
Lessee, Mount Everest is only 29,029 feet... Yeah, I know, not quite the same.
So, finally, why do we do this? I have been hiking and backpacking in the mountains for more than 50 years now. Why do we endure the effort, not only of the hike itself, but of the training necessary to do it?
I can speak only for myself — but this, which I read in a book published now 53 years ago, rings a bell.
Men who love mountains have a quality that is alien to valley men. They have a restlessness, an uneasiness, that nothing quiets. They have a loneliness that is present like a shadow even in the rain. It is there in their eyes when you meet them crossing a glacier, packs on their backs, mounting or descending staircases of eternal ice, on an endless journey not only to the limits of the land but to the limits of themselves. They are on their dogged way to another place, following paths that lash high above the timber-line and edge precipices of shale or granite, bound for a destination they will never reach, for mountains unfold forever, and the highest point is always farther, beyond the blue of the crevasses, higher than either land or man can go. And because he is still seeking the limits of that self, he believes he has "been no place, belonged nowhere". If this is true, then, "no place" is remarkably diverse terrain, and "belonging nowhere" should be acknowledged as the unique heritage of all mountain men.

Each of us, whether consciously or not, I believe makes a choice between the mountains and the sea. Go down to the sea, if that is what you have chosen; lie on its shore and be lulled and rocked into sleep, or drift will-less on its current, giving acquiescence to the embittered statements of the gulls. The mountains are something else; they ask man where he is going, and many are afraid to hear this question asked.
Kay Boyle, from the introduction to At Large by Herbert Kubly

Rene Daumal was asked this: "You cannot stay on the summit forever; you have to come down again. So why bother in the first place?" He answered:
Just this: What is above knows what is below, but what is below does not know what is above. One climbs, one sees, one descends, one sees no longer, but one has seen. There is an art of conducting oneself in the lower regions by the memory of what one saw higher up. When one can no longer see, one can at least still know.
---
lindy@arcanamavens.com
&copy 2017 by
Linden B. (Lindy) Sisk
, Brittany Fraser, Zach Fraser, Tristan MacDonald, and Nick Keith
All Rights Reserved